Acrylic Prints to Beautify Your Home
If you didn't know much about custom acrylic prints till now, then this page is exactly what you need to go through to make your first opinion on something that is so attention-grabbing. Photos on acrylic can literally make your favourite photos come alive on the walls of your home. Gives the right level of luminosity to your photos. Expresses colours in the images vibrantly and vividly. Fantastic print longevity and fade-resistance.
Professionals, home-makers and even artists love to make their photo looks better through the best mediums which are why acrylic prints are perfect for anyone! Get to showcase your photos with a super-crisp clarity with accurate details on acrylic prints. So if you are ready to go one step further with these, then we are here to help you design your very own photos on acrylic with us.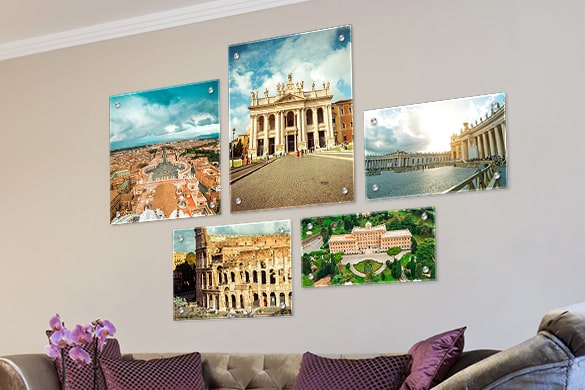 Acrylic Wall Displays
People who love artistic displays can consider taking a look at acrylic printed wall displays to get the gallery-feel in their homes or office spaces. Group a story through photos and get them printed on custom acrylic wall displays of various shapes and sizes to give a beautiful overall effect to a wall.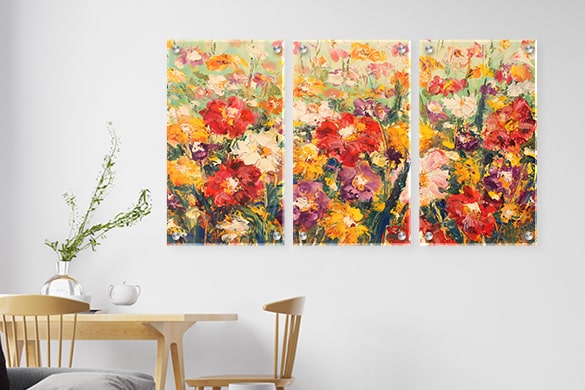 Split Acrylic Prints
Layout a beautiful image by splitting it into several acrylic prints to give a robust and dramatic effect. It provides a splendid mosaic impact of your photo to make it the overview a pleasing visual. With different stylings of the split panels, you can make acrylic displays truly enigmatic in any of your space.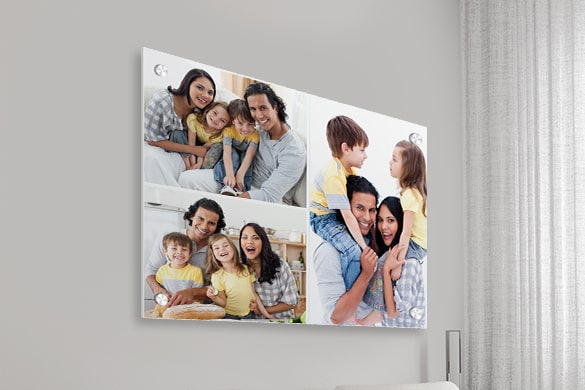 Acrylic Photo Collage
Get a spectacular option to convert your photos into a collage on acrylic! Get to shine all the best memories that you have had with your friends and family by getting them printed on the acrylic photo collage. Get to choose from various templates of acrylic glass prints in Australia to arrange your photos and make them stylish the way you want!
Gift Acrylic Prints the Way You Want
Find three options of hardware to help you decide how to gift acrylic prints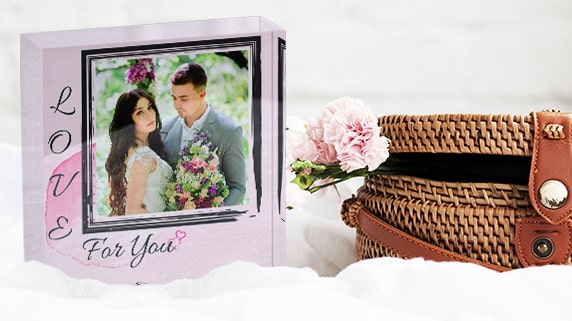 Highlight that one beautiful memory on acrylic block
Custom pieces to help you define the perfect depth
Polished edges for better viewing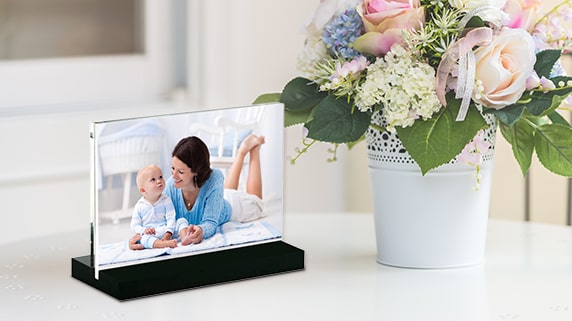 Ageless tabletop display with acrylic glass
Helps you emphasize the vibrancy of colours
Available is custom sizes for best visual pleasure
What You Get With the Acrylic Prints
Vibrant Colour

More Durable

Easy Cleaning

Hardware Included
frequently asked questions
Q:

What is the largest acrylic print size possible to produce?

A:

It depends on company to company. CanvasChamp can produce 48"x48" as the largest size in acrylic prints for you. For more bigger ones, you need to contact us via email with the specification that you need.

Q:

My boss doesn't like the bolt-style mounting. Do you have other alternatives to it?

A:

We do have alternate options for mounting the prints. We can offer you a back mount if the bolts do not work with you. Also, we have easel backs to place the prints in case if you are looking for a tabletop option.

Q:

What's the best way to clean acrylic photos?

A:

Any non-abrasive cleaner works the best. However, don't wipe the back of the acrylic where the image is printed or it might end up scratching the print of the photo. Wiping the front gently will remove dust to give a better view.

Q:

I want to put an order for acrylic prints in your promotion of Buy One Get One Free. Can I order two different images or must it be the same image?

A:

Yes, you can definitely select two different pictures for the prints and take advantage of the ongoing BOGO deal from the website.

Q:

Do acrylic prints fade or warp?

A:

The method we use to produce acrylic prints provides no risk in fading. Although, it might fade if exposed to direct sunlight over a length of time. Hence, it is best to keep it indoors in comfortable environmental conditions to prevent any fading from happening.

Q:

Can you do custom sizes in acrylic prints?

A:

Yes, we can. You can choose a size from 8"x8" to 48"x48" for any number of quantities. If you need any smaller or bigger than the given options then you can email us with your specifications.

Q:

Can you work out an acrylic print from old photographs?

A:

Yes, we can make out acrylic photo prints from old photographs, drawings and paintings which are scannable or can be digitized. Although, the results are often better with the original photo itself to work out from.

Q:

Can photos taken from phone work to create a print on acrylic?

A:

Yes, photos taken on iPhone or any Android can definitely work if you want to create smaller sized-acrylic prints. Larger sizes would need software to enhance the photo quality of the photos taken through a smartphone.

Q:

If the resolution of a photo is too low for an enlargement, do you still print? I have a panoramic photo but its too dark. Can you lighten it?

A:

We can definitely print any image or artwork that you would like to have. However, we normally recommend our customers to go for a high-resolution image as it would give the best output quality and prints will be clear and crisp. In case, you do not have such a picture then our design team can work upon it and give some effects and finishing touch to make it better.

Q:

I want to know what is the measurement of th acrylic panels. And also, do you metallic or gloss printing paper?

A:

The thickness of the acrylic sheets are usually 5 mm. We usually use a glossy paper for printing.
Ask about Acrylic Photo Prints and get answer in email.