Gallery Wrapped Canvas
Best Deal - FREE 9"x13" CANVAS ON ORDER OVER $75
USE CODE : FREECANVAS9X13 | End Soon, HURRY! View More Offers
Gallery Wrapped Canvas Prints
Make your canvas prints look more professional and become the centre of attraction! Canvas prints can display your beliefs in the most appealing way to your audience. But you can make it as a touch of art by using a gallery wrapped canvas print. Such prints are made by stretching your canvas across a wood frame to make it a ready-to-hang right away!
Canvas Gallery Wraps
So you must be thinking as to why choose canvas gallery wrapped prints? Well, let us assure you that you can be sure from these prints that they will always be the centre of attention. You can create custom gallery canvas prints to be sure they come out as exactly as you want them. The ready-to-mount feature allows you to hang the canvas wherever and whenever you want hassle-free.
Best Prices and High-Quality Gallery Wrapped Canvas
Mostly aiming artists and corporate events, we produce the best quality gallery wrapped canvases which have durability and vibrancy in colours for over decades to come! All our customers can get custom wrapped canvas prints at cheap and competitive prices.
We always believe in providing the best quality canvas prints to our clients. Get your free quote today by contacting us!
A Personalized Canvas Print Can Be the Most Thoughtful Gift
A personalized canvas print can be the most thoughtful gift you can present to a loved one. At Canvas Champ, we allow canvas prints customization so that you can create a custom canvas print that perfectly reflects your feelings and emotions towards a friend or loved one.
Customizing the frame of the canvas print is probably the easiest way you can transform your image into a stand-alone piece of art. Whether you need a frame for a portrait or you want to enhance the beauty of an old family photo, you will be able to find a framing option that best suits your taste. Select from our wide range of frames, and customize them. You can choose the border color to allow perfect blending of the canvas print with your interior decor or choose a brown golden frame to give your canvas print an authentic royal look.
We offer a wide variety of hanging and framing options for you to choose from. You can pick something that matches your tastes and requirements perfectly.

Black Frame
If you want to go for a bold effect, then a black frame will display your image in the best way.

Brown Frame
For a lighter yet impactful effect, the brown frame is exactly what you need for your next canvas print.

Brown Golden Frame
This frame design will give your image the soft reflected glow seen in museum paintings and art masterpieces.

Golden Frame
The ever popular golden print frame will give your image the classic look unique to old paintings in galleries.

Mirror Image
0.75" or 1.5" (depending on the thickness selected) is copied and extended on the edges to wrap around the frame. Select this option if you have any important details on the edges that you do not want to loose.

Image Wrap
0.75" or 1.5" ( depending on the thickness selected ) of the image is extended. The classic look. May crop some of your image in the wrap. Select this option if you want to go for the classic look and do not have any important details on the edges.

Border Color
The wrap is printed with the solid color that you choose from the palette. Select this option when you want the edges to be in sync with the color on the walls.
Ask about Gallery Wrapped Canvas and get answer in email.
Questions and answers about Gallery Wrapped Canvas
Q: Hi,I recently received my canvas print order the prints are OK at a distance.Are the Gallery wrapped prints printed on a different canvas with finer canvas look.What are the prices for 50 x 40 printsJohn
A: Hello there, Thanks for getting in touch with us. All our canvas prints are made from the same canvas material. Kindly email us your order details and our team will get back to you with your queries and pricing. Email us at cs@canvaschamp.com.au Thanks, Canvaschamp
Is this question useful?
Yes
No
Square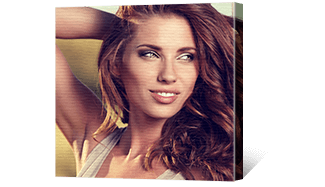 20 x 20 CM
8"x8"
A$79.71
A$11.96
30 x 30 CM
12"x12"
A$129.73
A$19.46
40 x 40 CM
16"x16"
A$196.43
A$29.46
50 x 50 CM
20"x20"
A$280.07
A$42.01
Start Order
Rectangle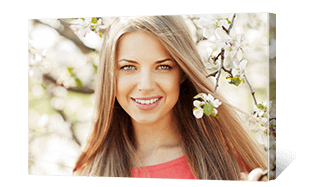 20 x 30 CM
8"x12"
A$140.00
A$21.00
30 x 45 CM
12"x18"
A$163.08
A$24.46
40 x 50 CM
16"x20"
A$229.78
A$34.47
40 x 60 CM
16"x24"
A$263.13
A$39.47
Start Order
Panoramic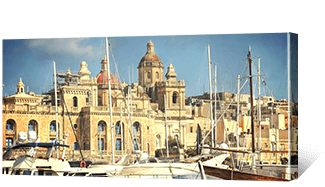 20 x 60 CM
8"x24"
A$189.75
A$28.46
25 x 100 CM
10"x40"
A$478.86
A$71.83
37 x 112 CM
15"x45"
A$868.16
A$130.22
45 x 135 CM
18"x54"
A$1022.18
A$153.33
Start Order
Make your photos more personal
Below are some other products of ours
X
8"X8"
Canvas Print on Your 1st Order *
Enter your email and get an instant Coupon for Free 8"x8" Canvas *
Get Free 8"X8" Canvas Print On Order Over $25*