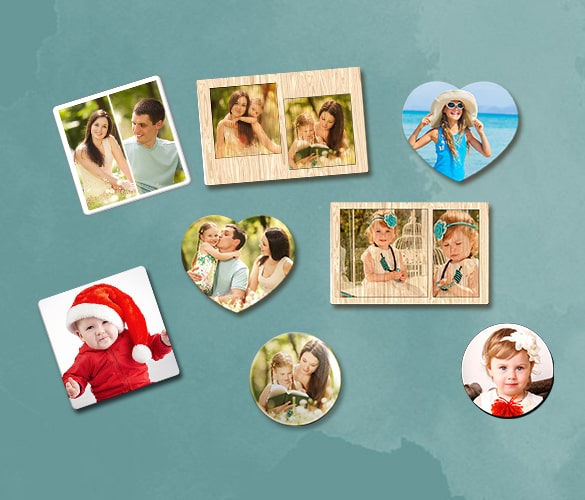 Present a new collection of photo magnets as often as you like
Display your travelling adventures, wedding memories, baby's special moments, or a whole year in review on your own customized photo fridge magnets in Australia. Watch as brilliantly colored pictures pop on acrylic, or choose the solid foundation of metal. Our custom fridge magnets are committed to bringing coolness to your space.
You see, magnets aren't restricted to just kitchen space. You can stick them on the fridge, school lockers, file cabinets, or any metal surface. You can even use photo fridge magnets Australia delivered in the office, garage, workshop, or anything with a metal surface. How about sorting your work plans by priority via magnetic photo prints? Hang up those step-by-step directions, or stick that agenda somewhere where it won't get mixed in with all your paperwork!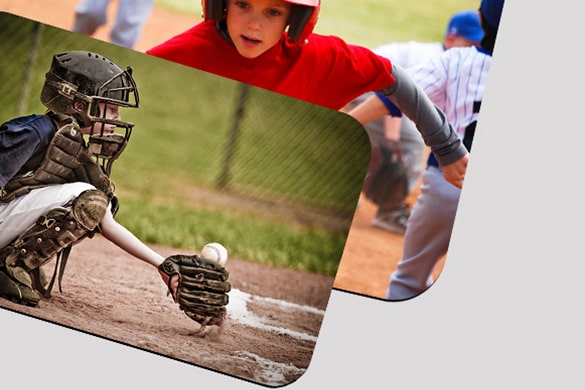 Custom photo fridge magnets are created to last longer
Photo magnets sure make a cool gift. Select your favourite photo, add a cool quote or message on it and get that photo magnet to keep those incredible memories stuck with you forever. Our customised photo magnets won't let you down. With a powerful magnet, these photo magnets are as sturdy in keeping down papers as any paperweight. Choose from Metal-1MM, Acylic-2MM & Wood-4MM, high-quality clear acrylic, or tin-plated steel. The UV-cured ink used on every personalised magnet is fade-resistant. A unique polyester coating makes them even further capable of standing the test of time.
Make these into Photo Magnets to remind you often!
Enjoy Life. Eat Well. Laugh Often. Love Much. Stick Around Longer with magnet photo prints.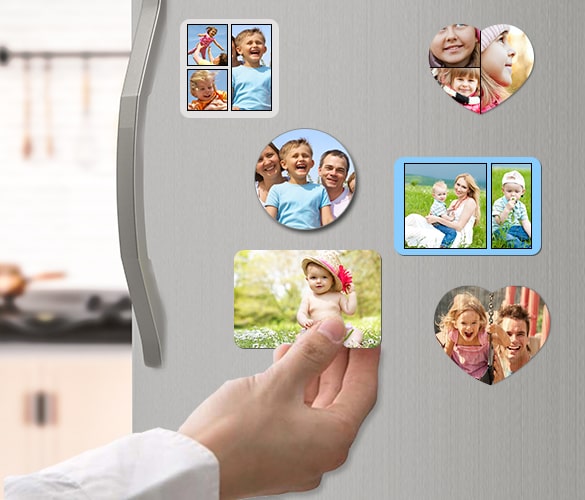 You can make photo magnets online nowadays for any moment. There are endless ideas to turn your photos into photo magnets if given the right options in materials, templates and shapes too. If you do find it anywhere to fit your purpose than us then us then good luck with its quality! Because with us, you won't be able to hold designing just one photo magnet!
DISPLAY:
Display your fridge doors as your very own mini art gallery now! Or turn those existing fridge artwork into custom photo collages. We will collaborate with you! Create photo magnets of your artwork and arrange them as a photo collage!
ORGANIZE:
Create and arrange magnets from photos that add style to your charm. Make it an individual message centre, project lists, in/outboards and even more with personalised photo magnets. Use your favourite words and photos to spark your creativity.
PROMOTE:
Use custom magnets to get your word well delivered to people. Magnets can't be just standard photos only by the way. You can even upload a business card or company's logo or an ad promotion to a custom piece that does your communication for you! Work done easy!
SHARE:
It's time to show your talent to others too. Make magnets from photos of your special ones in heart shapes! Fridge magnet photos Australia is a marvellous way to gift your favourite pictures to people who have compact wall space for decoration
IMAGINE:
Stretch your aesthetic skills by turning a few of your photos to magnets and then present them as an appealing story! Or transform your travelling adventures into photo magnets and save the recollections far longer than having finished unpacking.
Operate our easy-to-use photo magnet tool to start giving a piece of your heart to your near and dear ones!
Now Get Options To Choose From Three Type Of Materials To Design Your Very Own Photo Magnet!
Just add artwork or a photo to your photo magnet.
Acrylic Photo Magnets

Wooden Photo Magnets

Metal Photo Magnets
Photo Magnets: In Four Amazing Shapes!
Add round, heart or rectangle shape to a before original square shape to make better options for your photo magnets.
Square Magnets

Heart Magnets

Round Magnets

Rectangle Magnets
OUR PHOTO MAGNET DESIGN TOOL WILL HELP YOU CREATE CUSTOM MAGNET WITH COMFORT
Select from options available in size, shape and materials and slowly watch your photos change into customised magnets!
MATERIAL & SIZE

We have three options for you to choose from- metal, wood and acrylic. You can select a shape you prefer, and the size that matches the shape will pop up on the screen. With more than one choice of size, you may want to define precisely which size you want to print photo magnets for yourself.

UPLOAD IMAGES

You can upload photos from your computer's files, gallery, Facebook, or Instagram. File types that are accepted to design a personalised fridge magnet are PNG, JPG and BMP (up to 25 MB).

BACKGROUND

You can choose any colour that goes with your picture. Or you can even upload a photo that already has a border. That way it will improve your main picture on the photo magnet.

LAYOUTS

It's not that you can only get one photo printed on one photo magnet. We give you an option of making collages even here! Take up to two, three or four pictures and choose accordingly from various design layouts to design your photo magnets.

ADD TEXT

Make your photo magnets more meaningful with a quote or caption. Choose from various fonts and sizes, alignment and style, and some colour options to make the best custom piece.

CLIP ART

When you are out of options, you need not worry about it. You can choose from the options we provide in clip art to go with your quote or a personalised message.
Photo Magnets Q & A
We know you have particular questions regarding our photo magnets. You can check some questions asked often as below or contact us for any assistance.
Q:

What are the best ways to give photo magnets as gifts?

A:

Because of their small, ready size and ability to fit comfortably in envelopes, photo magnets can create an ideal canvas for a collection of fun circumstances. Baby's first moments, baptism celebration, graduation, and wedding announcements can last forever when they're printed on photo magnets. Christmas and other festivals Family photos are what makes Christmas a Christmas in a Christmas card or gift. Open yearly traditions with a personalised token of your recent vacation. Make sure to keep one for yourself to create a photo collage of all the fascinating places you've visited. Dorms, First Apartments, or Office Witty quotes and funny images can cheer up empty dorm rooms or bachelor apartments as it is difficult to find permanent decorating options for them. Photo magnets are also noticeable in the office whiteboards or file cabinets. Even photo magnets are suitable as Secret Santa gifts for colleagues. Get Creative Customised photo gifts are a great reason to set up a photo shoot. Get innovative and switch things up: different poses or props in burst mode can create a winning "photo booth" look that can give inspirational character to time, while different angles of the same location can create a different scenic effect.

Q:

How do I create my custom photo magnets?

A:

Designing your very own photo magnets is easily available with our online CanvasChamp photo magnet tool. You only need to upload the image of your choice, and our photo magnet tool will help you walk through the different materials, shapes, layouts, sizes and border options. Editing your photo magnet over becomes simple to understand at this stage to guarantee your photo magnet to turn out the way you want it. You can add custom text during these steps very quickly too. We also offer a good collection of clip art images to give a playful or personal touch to a photo or text. Primary magnets are elongated, so pictures taken on your phone are already ready to go. But you can choose a rectangle, square, heart, or round shape also. Our magnets are printed with the help of Epson Ultra Chrome GS inks on Ribermark Endura Light 150 PVC-free paper and protected with a Mylar PET polyester film coating for long-lasting endurance. A powerful earth magnet glazed with a black polypropylene back gives it a stronghold on heavy papers.

Q:

How can I use customised magnets to promote my work?

A:

Personalised magnets are suitable for even advertising as it helps clients and consumers store the most important info about your business. Keep valuable business contact info from slipping through the cracks by making it a functional magnet. Planners can create a bright and lasting impact by showing their work without the hassle of hyperlinks and shortcuts. Also due to their small size, photo magnets can easily be given away with flyers or given out at tradeshows and conferences. As they're not printed on paper, magnets can persist harsh travel conditions like bad weather that might damage other promotional items.

Q:

Why are fridge magnets so synonymous with kitchen decor?

A:

Magnets were designed for the space industry by an inventor named Sam Hardcastle. These magnets were meant to be used for letters and numbers on large-scale tracking charts. Somehow, the needs for it grew. New techniques for moulding them were developed, and Hardcastle began creating magnets for the souvenir industry. And they very soon became a collector's items. Today, magnets are mostly everyday household items that allow for unique decorating opportunities on any unused metal space. Instead of adorning just your fridge with your photos prints, you can now have your desired images created into photo magnets. Also, corporations can create customised promotional magnets for marketing purposes to keep their brand on top of the mind of their consumers and clients.

Q:

What kind of surfaces can a photo magnet adhere to?

A:

Our photo magnets have a strong earth magnet fixed at the back of your detailed photo printed for a stronghold. For your information, magnets can mostly adhere to iron, nickel and cobalt, as well as blended-iron metals, such as steel. People mostly stick magnets on the fridge, lockers, metal shelves, file cabinets and whiteboards. One should always keep in mind that magnets should be held away from tablets, laptops, smartphones, or anything with a magnetic range.
Ask about Photo Magnet and get answer in email.
You May Also Like These Other Photo Gifts
We offer a wide array of custom photo products that make great gifts for everyone on your list, not to mention exceptional ways to display photos and artwork in your own home. Here are just a few: