Blueprint of Customized Wall Tile From CanvasChamp
Print your photo or flaunt your favourite quote via unique custom wall tiles.
Material & Shapes
Material: Hardboard
Thickness: 5/6 MM
Printing Technology: UV Printing
Cutting & Finishing Technology: CNC Router
Shapes and Sizes:
Hexagon shape tiles: 6" x 7" – 8" x 9" – 12" x 14"
Rectangle shape wall tiles: 6" x 8" – 8" x 10" – 12" x 18"
Circle shape tiles: 6" x 6" – 8" x 8" – 12" x 12"
Square shape wall tiles: 6" x 6" – 8" x 8" – 12" x 12"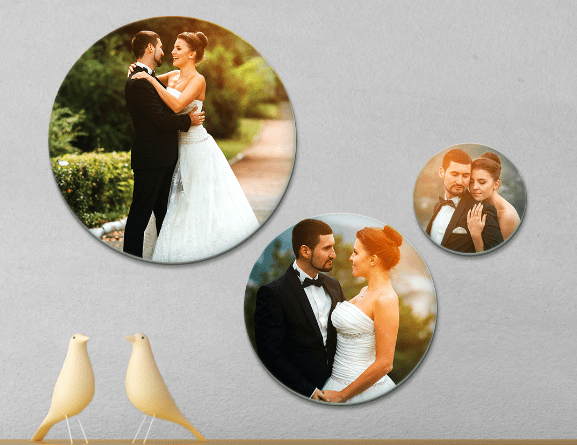 Bring a Smile to Your Loved One by Gifting a Customized Wall Tile
Convey your heartfelt message with personalized photo printed wall tiles
Do you want to express your feelings to your love? Then why waste time in finding the right gift when CanvasChamp offers personalized circle shaped wall tiles that are imprinted with your moments and feelings. This kind gesture will take your relationship to the next level and put a beautiful smile on your partner's face. These precious custom photo wall tiles are an ideal gift for your parent's wedding anniversary to remind them about the beautiful bond they have been sharing in past years.
When looking to offer a new look to your residential space, use these square, circle, or rectangular-shaped tiles rather than heavy ceramic wall tiles. It allows you to beautify the places like kitchen fop, bathroom walls, shower area, garden, or hallway.
These custom wall tiles are also well-suited for commercial places. Be it highlighting your company's name or glorifying your reception area. Now grabs the attention of anyone who enters your office with hardboard wall tiles. These custom wall tiles feature unique designs or a company's logo that elevate your walls and floors of the office.
Get more such unique, creative, and personal-touch custom gift products only on CanvasChamp.