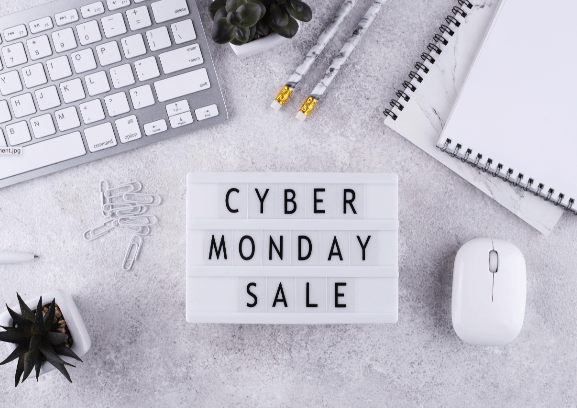 Cyber Monday at CanvasChamp Better Than a Black Friday
As the year ends, the merriest Cyber Monday times are around the corner. We are sure you have a long shopping list planned to celebrate it. So we are here to rescue you by making sure your spending will not go over your budget with our Cyber Monday Sale!
Know Benefit of Cyber Monday Deals At CanvasChamp AU:
Get the best deals on your gifts!
Order online from home or your office.
Make the holidays special with personalised gifts.
Free delivery on big orders!
Buy two, get one free offers is live!
FAQs on Our Cyber Monday Deals
What kind of products do you sell on Cyber Monday 2021?
Custom Photo Throw Pillow to Personalized mugs, we have everything you might need in our Cyber Monday 2021 sale. Check out our amazing Cyber Monday deals to save on your favorite gift products.
Can I customise my Cyber Monday photo items?
Yes! So start getting creative by customising your Cyber Monday items. Make memories last longer by printing them on personalised items.
How do I order Cyber Monday gifts online?
Stay home and just visit our website CanvasChamp to find the best, creative gift for your loved ones.
How many photos can I use in a custom gift for Cyber Monday?
It depends on your chosen item, but it ranges from 1 to 8 or even more for some personalised items.
Can I make Cyber Monday photo gifts on my phone?
Yes. Make your phone your new canvas by visiting our website and customising the best gifts.
Can I edit the photos on my gift?
Get the chance to show your editing skills by printing your edited photos on our customisable products this holiday season.
Which image file type should I upload?
PNG, JPG, BMP image types look great with our items. Make sure the file you choose has a high resolution.
Are sales better on Cyber Monday?
Sales hit the roof on Cyber Monday. With the holiday season near, it is better to prepare your gifts early.
Does Australia have Cyber Monday?
Yes, it's the biggest sale of the year, so keep your eyes peeled for best cyber monday offers, or you might miss it!
Best Things to Buy on Cyber Monday?
All products are mention-worthy, but a customised photo calendar might be the best choice to keep you organized this year.
Are deals better on Cyber Monday?
Our products are already highly discounted, but the prices are unbelievably down on Cyber Monday, so get ready to shop.
General FAQS on our Photo Products
How many days does it take to ship a product out?
All orders are printed 24-48 hours after approval. After printing, the orders are shipped out ASAP.
Are there any additional Cyber Monday Deals going on?
Yes, we have active coupons available to help you save a little more, even amid the Cyber Monday Deals.
Will it be here by the Cyber Monday holidays?
If you order 5-10 days before the holidays, your items can reach you by the Cyber Monday
How can I find or track my purchase?
You can simply track your purchase by checking the order tab on the website from your phone or any device.
Do you offer Cyber Monday gift cards?
Yes, we offer a variety of Cyber Monday gift cards which can be easily found on our website.
What payment options are there for Cyber Monday sales in Australia?
You can pay for your order with Paypal, VISA, Discover, and Mastercard in Australia on our website.