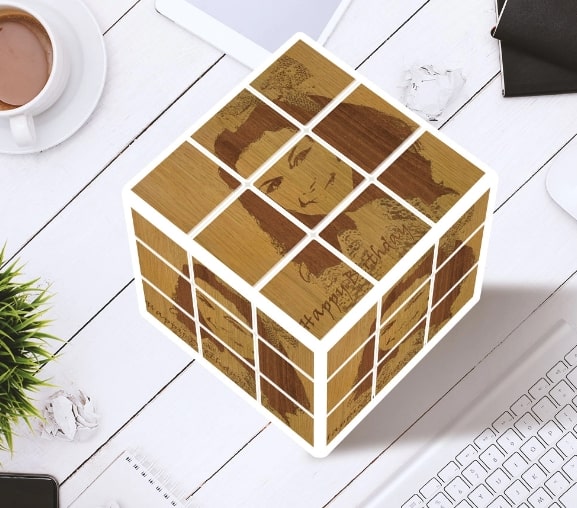 3x3 Rubik's Cube
Connect to design and create your personalised Rubik's cube with CanvasChamp
Boost your memory and de-stress your daily life with our mini–Rubik's Cube 3x3 game. Buy a 3x3 Rubik's Cube online from CanvasChamp and engrave your favourite memories on it. This magic cube 3x3 is the perfect gift for kids and every individual who loves to solve equations.
FAQs
How Many Cubes Are There in A 3x3 Rubik's Cube?
There are a total of 27 tiny cubes that conclusively make a 3x3 Rubik's Cube.
How Many Pieces in A 3x3 Rubik's Cube?
27 cubes or pieces make a 3x3 Rubik's cube.
Where To Buy Rubik's Cube 3x3?
The best place to buy Rubik's Cube 3x3 is online from CanvasChamp.
Gifts for Rubik's Cube Lovers
Explore Exclusive Range of Custom Rubik's Cube for Every Relation
Looking for something unique for your pet lover friend? Print any picture of your loved one with their pet on a custom photo Rubik's cube and gift it to them on their special occasion. Your pet lover friend will surely love this Rubik's Cube as it will be close to their heart just like their pet.

Pet Lover

Your grandfather needs something engaging so that he can spend his time on something that raises his curiosity. What is better than a custom photo printed on Rubik's Cube from CanvasChamp? Print your grandfather's most cherished pictures, and it will become his favorite object to pass time.Of course, the revelations of his favourite memory will keep him engaged with this fantastic personalised Rubik's Cube.

Grandfather

Your grandmother is always your first half. She taught you many things from walking, talking, reading, and eating. Now it's your turn to reveal those moments and make their tears off with joy and love. Engrave all your childhood pictures with her on a personalized photo Rubik's cube and gift it to her on her special occasion.

Grandmother

Dad has a special place in the heart of every child. He never says no to any of your wishes since you have been born. Now it's your turn to return this love, his sacrifices and give him something precious and memorable. You can gift him a customised Rubik's Cube from CanvasChamp with all the lovable moments you have shared with him.

Dad

Aren't moms just the cutest humans? One of the loveliest people in your life is your mom. Whoever you are today, it's just because of her. They teach you all the important lessons of your life that help you become the best version of yourself. Thank her with a cool and best Rubik's cube on her birthday and make her day shine.

Mom

In the world, there is no better relationship than that between siblings. Your sister is the first princess in your life. You spend most of the time together playing, bullying and everything and make many memories together. Now print your memories on a magic cube and give it to her to revive these memories again.

Sister

Brother is the best shield for a sister. There is nothing that can harm a sister when she has got a brother. The relationship between brother and sister is the strongest relationship in the world, so let's make this relationship stronger by giving a cool Rubik's Cube with your best memories and teasing him again.

Brother

Friends are friends, whatever you do, they are always there for you. Their knowledge of your strengths and weaknesses is invaluable, and you share many great memories with them. If you are looking for a unique gift for your friend, then this Rubik's Cube shop ends your journey here. Because it is customized and interesting to surprise your friend.

Friends

Sibling bond is the tangiest relationship in the world. You can neither live without them nor live with them. Then why not give something precious to them and show your love and let go of all the mischief. Customize the Rubik's Cube with your picture together and give them to reveal your message or picture with every side.

Sibling

Don't you just love babies? They are cute. That's the reason babies have lots of pictures. Most parents love to click pictures of their babies every moment. For those frizzy moms and parents, buy Rubik's Cube online with all the cute babies pictures engraved on it.

Cute Baby

Couples who love to spend quality time together have most of the romantic clicks, get those clicks out of the gallery and print them on a Rubik's Cube with our online tool. This gift is also for those unromantic couples who need a kick to enjoy their moments.

Romantic Couple

Family is the best part of your life. Wherever you go, you never forget the time you spend with your family. Get those family vacation pictures from the cloud and engrave them on a Rubik's Cube. Gift this to your family members who are going away from the family that always keeps them remembering that there are lots of people behind your success.

Family

Are you a social one? Do you have a lot of friends? And looking for the same gift for everyone. Then your finding journey ends here. CanvasChamp brings an interesting gift for each friend. A personalized Rubik's Cube is one of the best gifts that is printed with your friend's picture together and the funny dialogues you have generated together.

Friend's Group

Are you a selfie freak? Your gallery is always flooded with your pictures only, and you also wanted to show off your best pictures to your family and friends. So, this Rubik's Cube is made for you. Print all your best multiple pictures on each side of this custom-printed Rubik's Cube and get them delivered anywhere in Australia.

Multiple Self Photo

Men are always confused about what to gift to their female friend. Because sometimes, females can be picky and always want something new and exciting. If you are also here to find a gift for her. Then try this customized Rubik's cube engraved with your pictures, quote, or any piece of art.

For Her

Finding a gift for him is the toughest task ever because males don't have enough things to carry. But CanvasChamp brings a solution to this issue with its custom photo printed Rubik's Cube. Get this cube easily by simply uploading your picture or quote you want to print and selecting the size of the cube then done, your product will reach your doorstep in a brief time.

For Him
Celebrate Every Occasion Uniquely with Custom Rubik Cube
Get a perfect gift for your loved one to celebrate their special day smartly.
Since the day you were born, your father has been busy moulding your future. He doesn't get sufficient time to play with you. But as they grow old, they need your attention, your consideration. Thus, this Father's Day, get those old pictures of you and your father out of the box and print them on a personalised photo Rubik's Cube.

Father's Day

Mothers are the most important people in your lives. Surprise her with your handwritten poetry and print it on a Rubik's Cube with CanvasChamp. Give her a reason to smile throughout the year by revealing her lovable thoughts.

Mother's Day

Friends are someone who knows you better than you. They knew all your secrets, your swings, your difficulties. They are always with you no matter what! Try something unique on this friendship day. Customise a Rubik's Cube with the most precious and crazy picture together.

Friendship Day

Every Australian heart wait for this day throughout the year. This is the day when you remember the formation of Australia and send good wishes to everyone. This Australia day brings something exciting with a custom Rubik's cube. Prints the fact you and your loved one never know about Australia and adds a piece of knowledge to your ocean.

Australia Day

The world is flooded with pet lovers. Many people around you love to be with their pets. On this national pet day, get a unique gift for them, even pets. Customize a Rubik's cube online with CanvasChamp and bring a play toy for the pet and their lover too.

National Pet Day

Send your warm wishes and good luck to your loved one. Get a Rubik's Cube themed with St. Patrick's Day and add a piece of elegance to their lovely gift collection. This customized Rubik's Cube game is a thoughtful gift for everyone from kids to adults. You can personalize them with your own gift to celebrate every occasion.

St. Patrick's Day

Easter celebrates the resurrection of Jesus three days after his death. This day is like a principal feast for Christians. They enjoy playing games, spending time with their families, and exchanging gifts. Add a piece of joy with curiosity to this Easter day celebration by getting a custom photo on a Rubik's Cube.

Easter Day

Phew!! You have finally spent a year together with your better half and are hoping for the best for more years to come. This anniversary gives something interesting to your loved one. Print the most lovable picture of last year on a Rubik's Cube and give your loved one to solve and reveal the pictures for more fun.

Anniversary

Finding the best gift for Valentine's Day is always a challenging task. If you have lots of things to give, think about something unique. Then CanvasChamp will help you. Get a custom Rubik's Cube with your most loved memories printed on each side and gift it to your Valentine.

Valentine's Day

There are several women's day quotes and thoughts available. You also have that special woman in your life who makes your life rosy. Print beautiful messages and thoughts on a Rubik's cube and gift it to the most cherished women in your life. Share the message of equality and remember this throughout the year.

Women's Day

We wish you a merry from us to yours. This Christmas brings something exciting for your entire family and is a secret Santa for your loved one. Customize a Rubik's cube online with us and insert the delivery address. Our team will dispatch this personalised Rubik's cube Australia anywhere.

Christmas Day

The new year comes with new resolutions, new energy, and new things for your life. This new year, make a new resolution to you and your loved one by printing it on the Rubik's cube. Reveal the message to the receiver and instruct them to follow your resolution throughout the year.

New Year's Day
Promotional Rubik's Cube with Picture or logo as Gift
Today's marketing landscape is different from what it was years ago. You always need to think of something unique to present your thoughts and products to the world. And we might just have the perfect promotional products for you! It's Rubik's Cube. Personalize a Rubik's Cube in varied sizes and pieces and print your brand's logo, product picture, tagline, and marketing punchline on it. Get it for yourself or gift it to your employees, distributor or any other businessperson and expand your reach.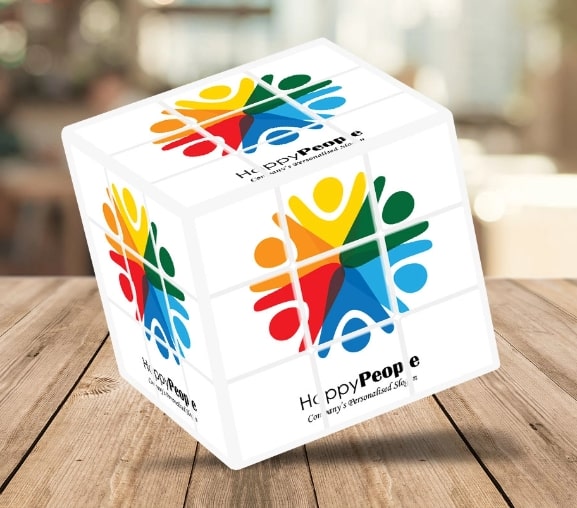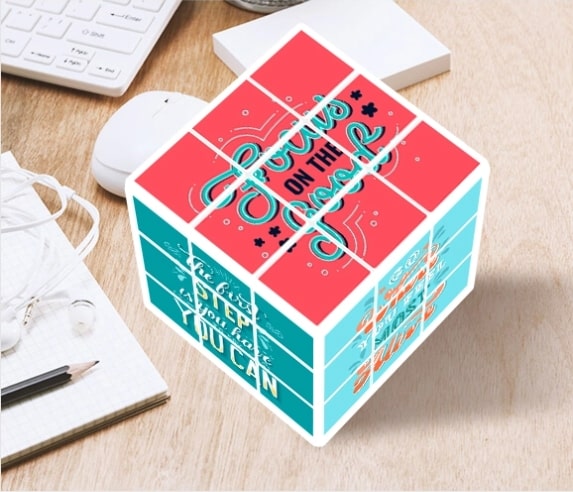 What's Unique with CanvasChamp?
Connect to design and create your personalised Rubik's cube with CanvasChamp
Rubik Cube is an excellent gift for anyone dear to you or someone who enjoys solving Rubik cubes. You can also make your own personalised Rubik's cube in Australia with pictures of your loved ones on it.
CanvasChamp Rubik cube is like any other regular Rubik's cube but with a unique twist. You can upload six of your favourite photos and get your Rubik cube customised precisely how you want it.
There are two types of Rubik cubes available with us: Regular and Classic. The classic model is the heavier of the two, but both are made using excellent material.
Since it is a one-of-a-kind show item or gift, it makes for a great centrepiece in your living room, and you will be asked where you got it from!
Custom-printed Rubik cubes are a great way to hold your logo in front of your customers and prospects. Rubik Cubes at CanvasChamp are available in a range of designs to fit any budget. Our Rubik cubes also make excellent handouts. They're a fun, one-of-a-kind, and cost-effective way to display your logo.
So next time, when you search for a pathway to show your love for Rubik lovers, then these customised Rubik cubes from CanvasChamp will indeed leave them delighted.
FAQs of Custom Rubik's Cube
What Is a Magic Cube?
A magic cube is one of the puzzle cubes where you can solve it with tricks and print anything on it and in any size.
Where To Buy a Rubik's Cube?
If you don't want to compromise with the quality at a very affordable price, then buy Rubik's speed cube from CanvasChamp.
How To Make a Custom Rubik's Cube?
Visit CanvasChamp's website and open Rubik's cube section to customize your cube according to your preferences.
How To Make a Magic Cube?
Visit CanvasChamp's official website. You can easily make your magic cube online there and get it delivered to your door.
How To Make a Photo of a Rubik's Cube?
Open our latest designing tool on the Rubik's cube section on our website, CanvasChamp and add the photos according to your choice.