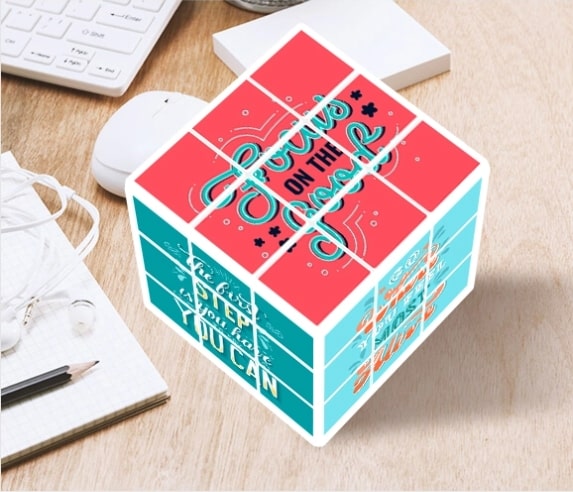 Why CanvasChamp?
Connect to design and create your personalised Rubik's cube with CanvasChamp
Rubik Cube is an excellent gift for anyone dear to you or someone who enjoys solving Rubik cubes. You can also make your own Rubik's cube with pictures of your loved ones on it.
CanvasChamp Rubik cube is like any other regular Rubik's cube but with a unique twist. You can upload six of your favourite photos and get your Rubik cube customised precisely how you want it.
There are two types of Rubik cubes available with us: Regular and Classic. The classic model is the heavier of the two, but both are made using excellent material.
Since it is a one-of-a-kind show item or gift, it makes for a great centrepiece in your living room, and you will be asked where you got it from!
Custom-printed Rubik cubes are a great way to hold your logo in front of your customers and prospects. Rubik Cubes at CanvasChamp are available in a range of designs to fit any budget. Our Rubik cubes also make excellent handouts. They're a fun, one-of-a-kind, and cost-effective way to display your logo.
So next time, when you search for a pathway to show your love for Rubik lovers, then these customised Rubik cubes from CanvasChamp will indeed leave them delighted.