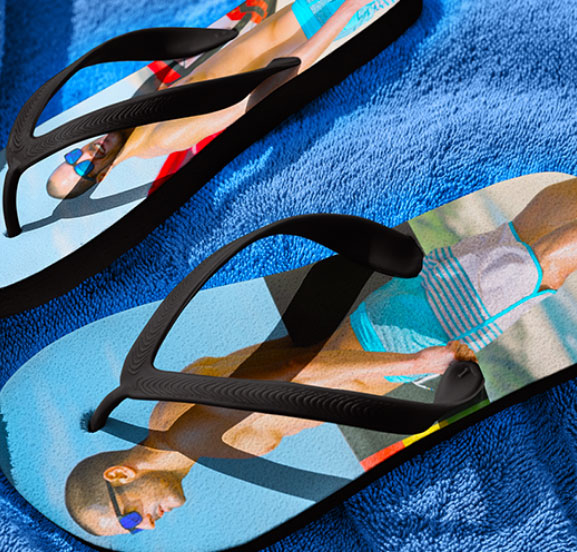 Specifications of Personalised Flip Flops
Pick your personalised pair of flip-flops and slip on them!.
Flip Flop Sizes (approx. length in inches):

Small - 10.25"
Medium - 11"
Large - 11.75"
Extra Large - 12.5"
Kids Large - 9.25"

Material: Foam rubber
Thickness: 15mm
Printing Method: Sublimation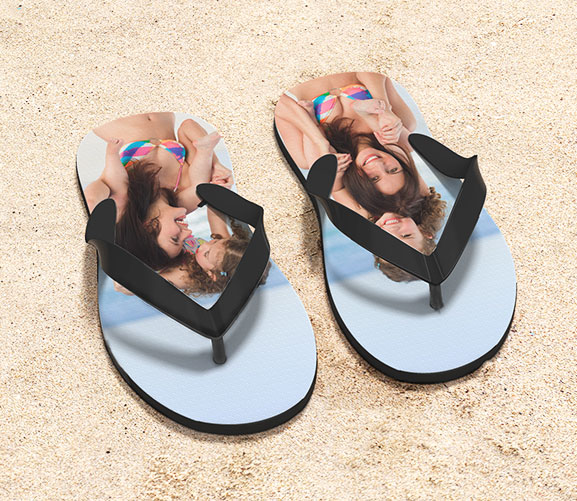 Don't Own A Custom Flip-flop Pair Yet?
Order one from CanvasChamp and start relaxing in comfort today!
Nothing beats slipping into a pair of comfortable flip-flops after a long day at work. The mere thought is enough to put your feet at ease. They calm your feet and your mind at the same time.
They're also a perfect go-to shoe for buying groceries or hanging out in the backyard. They are also an excellent option for mom and dad who prefer to stay casual.
You won't have to think about tying your laces or finding a pair of socks that matches your shoes. It's as easy as slipping them on and going.
As a result, they're ideal for young children who haven't yet learned to tie their shoes or who hate the feeling of a bulky sneaker on their feet.
Out of many styles to choose from, some flip-flops are also elegant enough to wear to work. Men and women can wear flip-flops to work as well, mainly if the climate is more laid-back.
You can also use them to promote your company by printing your logo on them. They'll get the customers' attention right away!
If you don't own a pair yet, then don't worry; you've got plenty of options to choose from or get them customised that will fit your daily needs.
What are you waiting for? Order your custom pair of flip-flops from CanvasChamp today and start relaxing your feet!
And for more cool vibes, be sure to check the CanvasChamp website.