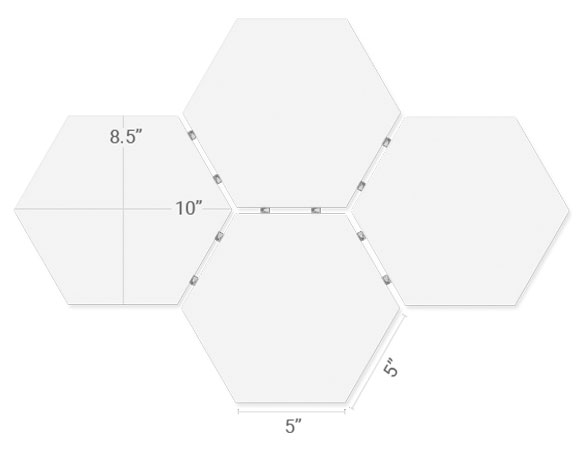 About Hexagon Canvas
Hexagon Shaped Canvases to treasure your special moments
Hexagon-moulded canvas prints are a flawless and inventive approach to show your valuable recollections. Merge up to ten of our honeycomb photograph canvases utilising montage clasps to make a plan that is exceptionally yours. To customise further, you can combine hexagon prints in any shape or use the single as per your wish.
Hexagon Photo Prints That You Can't Resist
Printed on a high-quality canvas, CanvasChamp is here to deliver you the most innovative photo product you will ever find- hexagon prints. The custom hexagon canvas photo prints crafted at CanvasChamp will match all your expectation without any err. You can likewise look at two changed wraps and three distinct fringes. Your friends and visitors won't be able to take their eyes off our new honeycomb-moulded canvas prints!
Our Honeycomb Canvas Photo Prints Flawlessly Fit Any Decor
Measuring 10" from corner to corner or 8 3/4" from side to side, so you can hang one hexagon moulded canvas in the smallest space to showcase. Combine a few of the customised hexagon photograph canvases to show prominent zones. Honeycomb canvas photo prints are perfect to showcase those one-of-a-kind moments!
Customised Hexagonal Canvas Prints
Splatter the unconfined and undefined blend of love creatively
Let the Three Hexagon Prints Feel the World in Arms
Happy Moments on all Fours
The More the Merrier With Hexagon Canvas Art!
Steps to Order Hexagon Canvas Prints
Step 1

Upload your images form your laptop, smartphone gallery, or your social media account.

Step 2

Adjust your image to build the best hexagon prints.

Step 3

Then it's time to customise by choosing wrap and border.

Step 4

Customise further by adding effects and retouching as required.

Step 5

Print 'n' number together or keep adding them individually to your cart.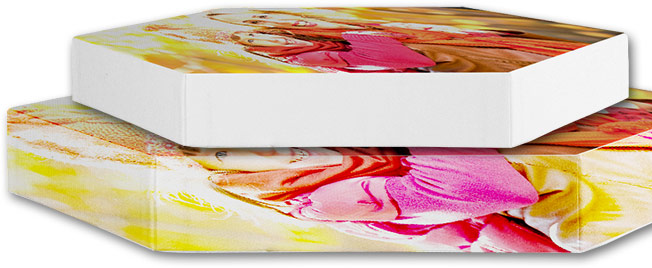 Wraps and Borders Play a Crucial Role
Our expert believes that covers and borders help you enhance the overall appearance of your hexagon shaped canvas prints.
If you want to have a flawless 'gallery-art' touch to your hexagon canvas prints Australia, choose the 0.75" thin border. You can further customise the border appearance to make it look more personalised and distinct.
CUSTOMISE EVERY CORNER OF YOUR HEXAGON SHAPED CANVAS PRINTS
With CanvasChamp, you'll never run short of options to customise your hexagonal shaped canvas prints.
Not only this, but you can also request retouching in which our design experts will jointly work on your picture to remove redeye, exposure-related concerns, faded colours, or scratches. Having said this, we can assure you that the honeycomb-shaped canvas print you order with us will be free from flaws.