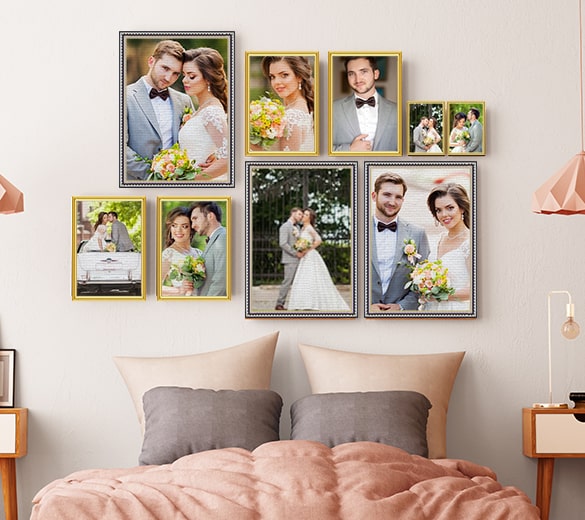 Portray Your Favourite Photos on Best Framed Canvas
Finally, you can display your favourite pictures by creating a unique and beautiful framed print with a choice of either black or white mat paper for your home decor. With as many as twelve options in frames to choose from, you can display your beautiful memories in any space of your house or office and customise the photos on the framed prints.
Product Details
Options for personalising your photos with various filters and finishes on framed canvas.
22 framing borders and two mat options available to make your photos look the best.
UV-resistant inks used on a poly-cotton canvas to print your photos on framed canvas prints.
3 Trending Borders for Our Custom Framed Canvas Prints
A well-chosen border will help you highlight your photos the best way
Black

Brown Golden

Black Floating Frame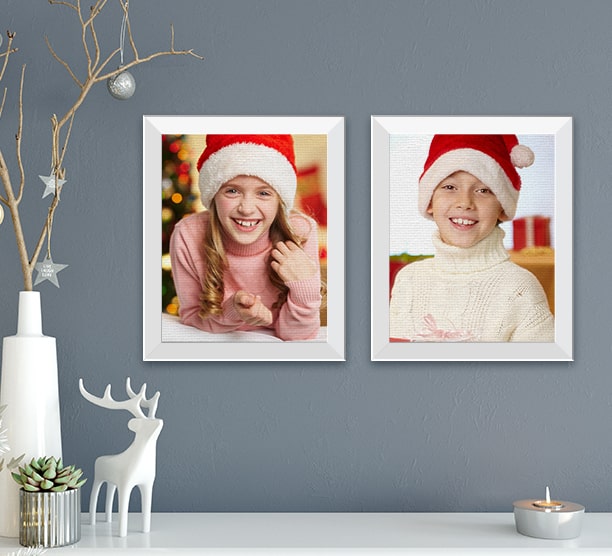 Gift any Photo on Framed Canvas Prints to Make it an Art
Custom framed prints are a thoughtful way to turn any artistic photos into art and gift it to anyone you want. You can surprise your loved one with your favourite family photos too on one of the frames from us or create a whole new one to match their style on our design tool. Make every moment clicked worth it by printing them on custom-framed canvas prints.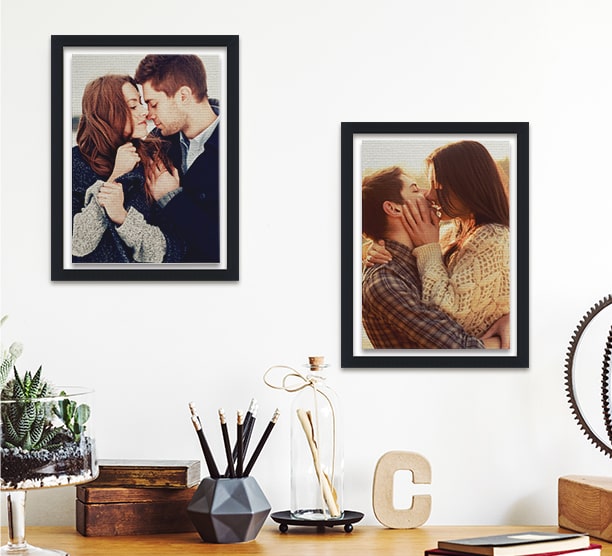 It's Easy to Maintain and Manage the Best Framed Canvas
Canvas-based photos may seem a bit difficult to manage, but that is not the case! If you get framed canvas prints from CanvasChamp, you will 100% get the best quality art prints from us, and you won't even have to maintain much! Just use a dust cleaner or a slightly damp cloth to wipe any dust layers off the frame from occasionally and your photos will look new!
Frame Your Photos To Preserve Memories in a Better Way
Find out why framed canvas prints are the right items than the traditional photo prints
Appearance
Framed canvas prints look better in appearance than paper-based photo prints as your photos are printed on canvas to give an excellent depth and texture to your pictures. With standard photo prints, your images will look flat or even slightly decoloured, which might not appeal viewers to engage well with the memories shown on them.
Venue
If you usually face problems with glare and reflection on your photos while displaying them, then the framed canvas is the best choice for a house that has too much natural light. Due to a matte finish on the framed canvas, it doesn't reflect as much as the traditional photo prints, which make it easier for you to choose a sweet spot to showcase anywhere.
Size
We all know how hard it gets to handle a large-sized photo print - too glossy, can't view photos from a certain angle, leaves smudges due to fingerprints, etc. Going large scale with custom framed canvas prints would never bring your problem with such things. In fact, the framed canvas is lightweight than photo prints no matter; however, a life-sized photo it has on it!
Longevity
Traditional photo prints might decolour or fade away the pictures printed on it in a few years if not cared for properly. But with framed canvas prints you can keep your photos looking like artwork for many decades! It resists warping and fading to make it possible for you to create even heirlooms out of it!
If you are looking for something just like this but more vintage-looking prints then you should try our canvas photo prints to make your photos last for a lifetime.
How to Design Framed Canvas Prints?
Take a look at that the 4 steps below to get going:
Upload Images

Import your images from desktop, mobile, FB, or Insta profiles.

Pick a Size

Go through the custom sizes available with us to pick one for you.

Choose Frame

Try out different frames and border on your image from the options.

Hardware & Options

Pick the hardware option and check out any changes needed further.