4 Shapes in 3D Crystal Cube
1. Rectangle-Shaped 3D Crystal Cube
Elevate the grace of your room as you place this CanvasChamp's rectangle-shaped 3D crystal cube with personalised photos. Designed attractively with your loved one's name and pictures, the unique 3D crystal cube gift will make them feel special and understand how much you care for them. Laser-etched images on this 3D crystal cube will uplift the charm of your memories.
Sizes Available:
180mm x 120mm x 65mm
100mm x 100mm x 160mm
2. Diamond-Shaped 3D Crystal Cube
This personalised 3D engraved crystal cube will speak volumes about the love you hold for your friend. This CanvasChamp's diamond-shaped 3D Crystal Cube will proudly showcase your emotions to your loved ones. Make it more special by adding your favourite photos.
Sizes Available:
3. Heart-Shaped 3D Crystal Cube
Family relations are meant to be treasured, and custom photo gifts offer something unique to keep those relations. Heart-shaped 3D crystal cube will convey your love to your special someone like no other gift and will serve as a perfect present for Valentine's Day and anniversary.
Sizes Available:
100mm x 95mm x 20mm
100mm x 100mm x 20mm
140mm x 140mm x 20mm
145mm x 125mm x 60mm
4. Cube-Shaped 3D Crystal Cube
Give your photos a floating effect by laser carving in this beautiful cube-shaped 3D crystal cube. A small personalised note can also be etched for an extraordinary effect.
Sizes Available:
80mm x 80mm x 80mm
70 mm x 70mm x 70mm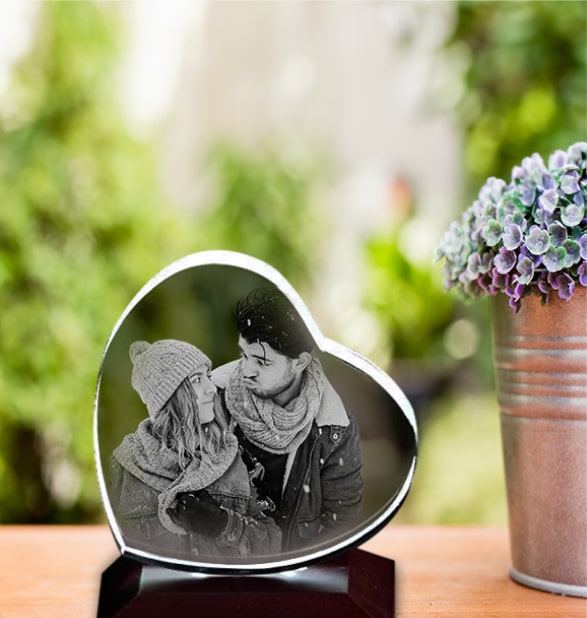 Personalised 3D Crystal Cubes in Australia
CanvasChamp's 3D Crystal Cube will exemplify your love when added with personal photos and show your loved ones how much you care for them. When placed on a lighted podium, this dynamic crystal cube will take its charm to another dimension