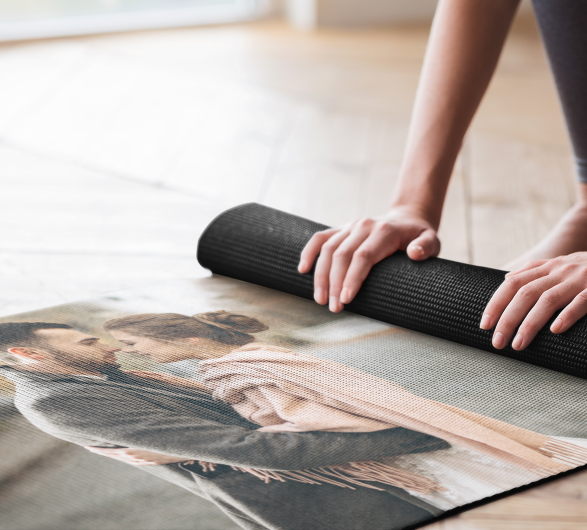 Make Your Fitness A Priority Get Custom Yoga Mat for Yourself
Get a wide range of custom design yoga mats at this platform. Being one of the biggest custom yoga mat manufacturers with custom printed yoga mats Australia, CanvasChamp offers you to get amazing, printed yoga mats Australia. So, are you ready for peaceful yoga sessions and take your fitness goal to its destination?
Why Choose CanvasChamp to Gift Yoga Mat on Occasion?
International Yoga Day gift for health-conscious people
Business event promotional gift for fitness ventures
Birthday and anniversary gifts
Friendship day occasions
Gift for Valentine's Day and
Mother's Day Special Gift
Get A Perfect Yoga Mat as Gift for Perfect Relation
Family Photo

Customize your family photo and enjoy their company in every yoga session.

Father Photo

Gift a custom yoga mat to your father and vouch for his good health.

Mother Photo

No one can understand you more than your mother. Get a lovely picture of her and get it customized on a custom printed yoga mat.

Sibling Photo

Get your sibling a colorful yoga mat to have cheerful yoga sessions with you. Print a yoga mat with some special lines for your sibling.

Sister Photo

Gift your sister a custom-made yoga mat with a lovely message which will always remind her of you.

Brother Photo

Get your brother's picture and plan to customize it on the yoga mat. Encourage him to do yoga with his smiling face on it.

Wife Photo

A custom yoga mat with pictures can surprise your wife and encourage her to do yoga daily.

Husband Photo

Get your husband a custom yoga mat with a picture of you both. He will fall in love with you every day while performing yoga.

Daughter Photo

Daughters can make one smile no matter what the situation is. Customize her picture on it and get started with your day.

Son Photo

Gift your son something that can build his health. Get a personalised mat with some pictures on it to encourage him to do better every day.

Girlfriend Photo

What is more beautiful than taking care of your girlfriend's health? Get her a customized yoga mat having her random cute pictures.

Boyfriend Photo

Now get a chance to express your love by gifting a custom yoga mat to your boyfriend having his photo on it.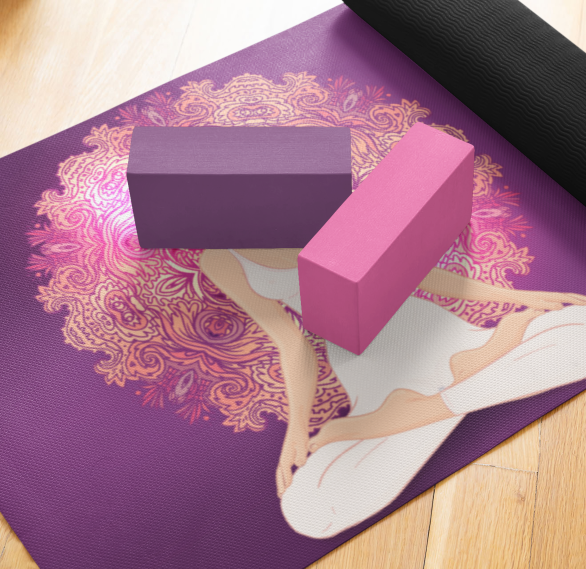 Turn Custom Yoga Mats into Art Pieces
Custom Printed Mats with Brand Logo
Add your brand logo on Yoga mats and generate awareness about your brand.
Custom Printed Yoga Mat with Yogic Quotes
What is a better way to remember quotes by great Yogi than printing them on your mats?
Custom Printed Yoga Mats with Pets Pics
Pets are the cutest members of your family. Let your yoga mats shine with their cute faces.
Custom Printed Yoga Mats with Nature's Beauty
Immerse yourself in the tranquility of nature by printing them on your yoga mats.
Moon And Star Print Design on Your Yoga Mat
Do you love peace and night? Well, now you can print them on your personalized yoga mats.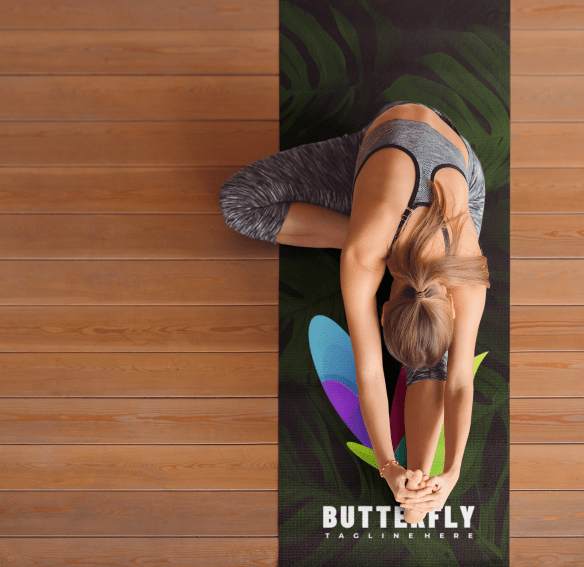 Custom Yoga Mats for Businesses
Convert your marketing ideas into reality with these printful yoga mats. Reach out to your target audience and potential clients using this powerful marketing strategy. This printed and customized yoga mat can be used to promote several events related to fitness, yoga, and health.
Therefore, if your venture is looking to collaborate or launch a fitness track, the custom design yoga mat can be used to attract customers. For this, you can go with any custom yoga mat and get a logo printed on it.
FAQs on Custom Yoga Mat
What Is the Best Thickness for a Yoga Mat?
The best thickness for a firm grip yoga mat is 4mm to 5 mm.
Can I Make My Yoga Mat?
Yes, CanvasChamp is a leading custom yoga mats manufacturer. Simply visit our website and follow a few steps to get your own printed yoga mat.
Is A 4 mm or 5 mm Yoga Mat Better?
If you want a soft-landing yoga mat, you can go for a size between 4 mm to 5 mm
How To Print Yoga Mats?
To get your printed yoga mat, you need to upload your picture using the design tool on the CanvasChamp yoga mat website.
How to customize your yoga mat.
You can customize your yoga mat by uploading a photo on our website.