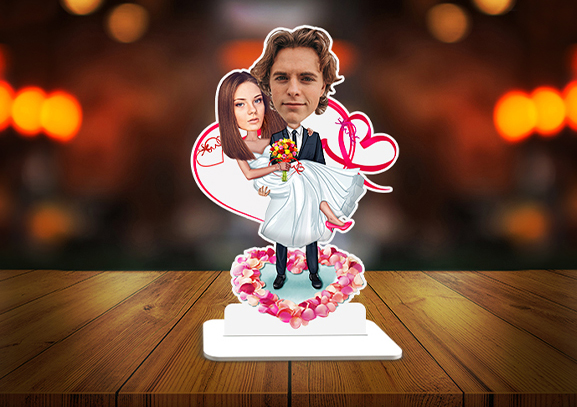 Personalised Caricature Photo Stand Details
Multiple customised caricature stand options available.
Material: White Acrylic
Thickness: 2MM
Printing Method: UV Printing
Sizes
Small (6 Inch Height or Weight and Depending on the Image Orientation)
Large (10 Inch Height or Weight and Depending on the Image Orientation)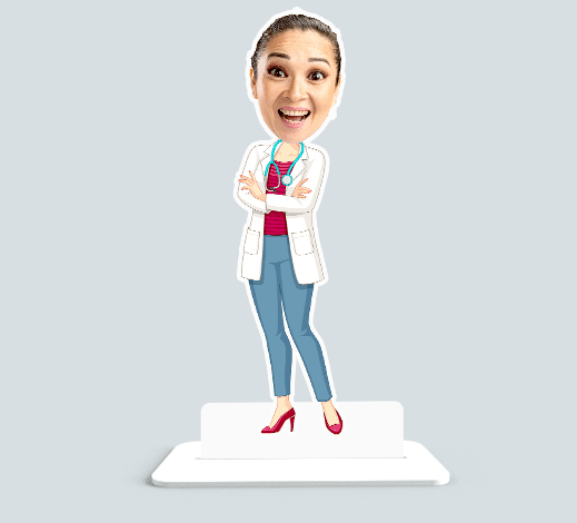 Convert Your Portraits into a Caricature Photo Stand
Sending caricature photo stand as personalised gifts can brighten someone's day
CanvasChamp gives you the option to provide your loved ones with a perfect gift on birthday, anniversary, graduation day or promotion day. In a few steps, you can create your caricature.
Choose your favourite picture and get it printed on a caricature stand. Customised caricature photo stands emerge as genuinely exceptional, significant and thoughtful gestures. Some of the benefits of giving a custom caricature photo stand are:
Unique and thoughtful: Getting a gift customised for someone in itself is impressive and brilliant. It also includes a beautiful message about how much you love a person to take time and give a personalised gift.
Cherished and memorable: Your loved ones will always cherish custom caricature stands. Whenever they look at it, they will think about you. A special moment of your life can also be caricatured.
Perfect for all occasions: Whether it is someone's birthday or anniversary, caricature stands can be given for all the events.
Budget-friendly: Caricature stands are very affordable. If kept properly, they are intended to last forever. The material is of supreme quality.
Not just another gift: Customized caricature photo stands are not like any other gifts. This idea is ideal and gives the person a long-lasting impression.
With CanvasChamp, you get all these benefits. On-time delivery, CanvasChamp gives attractive prices, premium printing quality and high-quality acrylic material. You must try this unique idea and give your loved one a beautiful yet funny, custom caricature stand.