The CanvasChamp Difference
You can trust your precious memories to the experts at CanvasChamp. We use only the very best materials and offer quality products at an affordable price. We guarantee it!
Over 2,000,000 Prints sold

Since 2012, we've sold 2 million+ custom photo gifts to worldwide.

99+ Year Warranty

All canvases include a lifetime warranty and guaranteed replacement.

Lowest Prices Guaranteed

We guarantee the lowest prices for high quality photo canvases!

100% Love-it Guarantee

Love it or send it back! We guarantee a full refund with no hassle.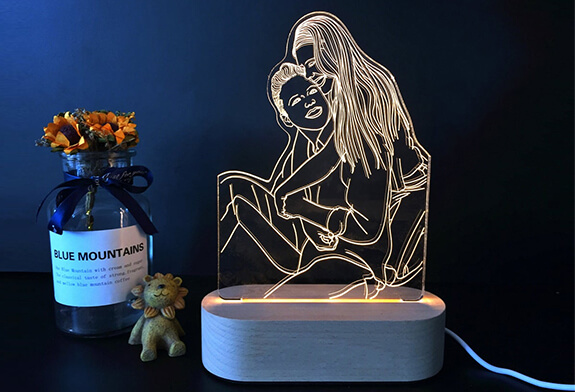 Turn Your Photos into Luminating LED Lamps
Brighten up your nights or of your beloved ones with colourful custom lamp
CanvasChamp welcomes you to explore the world of new illuminating light lamps made from your beloved photos. Get to design a custom LED lamp to brighten up your home or gift it to your loved ones as a special keepsake.
Your favourite picture can now become a soft glow in your room like a night lamp for your nightstand while it sits on a Steam Beech wood base that can add warmth and cosiness to any place you wish.
Create delightful ambience in your living room or bedroom with our personalised photo lamps that don't even take up much space. You can even design one custom photo 3D lamp in Australia for your kids' room to make a beautiful night lamp for them.
Personalised 3D Photo Lamp