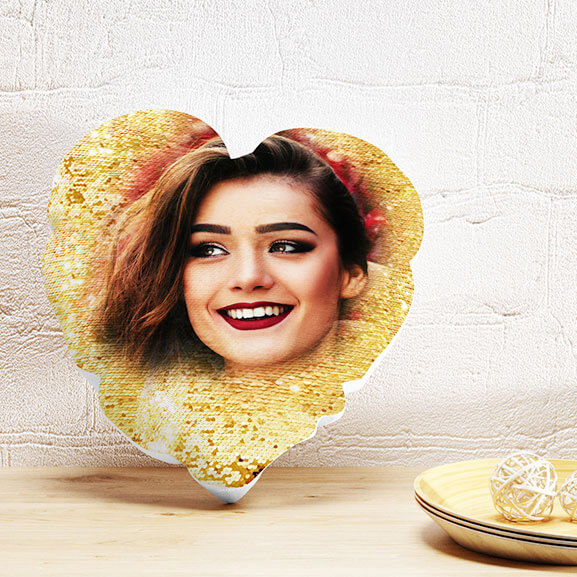 Try Our Wide Range of Stylish Custom Reversible Sequin Pillow
Fill the colours in your room and make it more stylish with a sequin cushion cover
Multiple Colours & Shapes (Bifurcation)
Square
Print your memories on a square sequin pillow and put it in your bedroom or living room. It can be used as a decorative piece of party or usual home decor. Get it in red and golden colour and many more colours to come.
Heart Shape
Surprise the love of your life by getting this heart-shaped personalised sequin pillow printed with your most-liked picture together. Then, create excitement by telling them to reveal your memory by swiping on the pillow.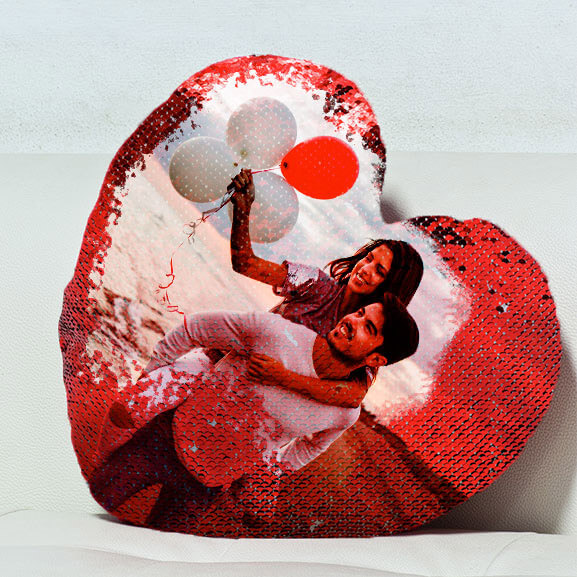 Get the Blueprint of a Magic Cushion Cover
Looking for material, shape, colours and sizes availability? Check out here!
Materials Used:
Cover: Sequin Material
Inside cushion: Recron Material
Shape:
Colour:
Size: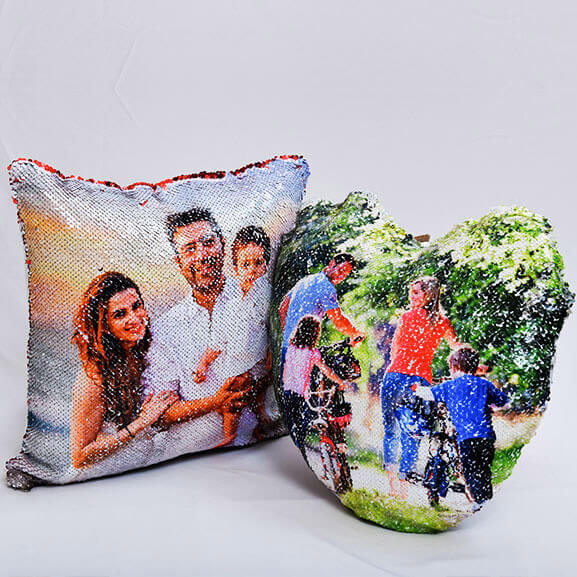 Custom Sequin Pillow For Any Occasion
Searching for a unique gift for your beloved one? Try this custom reversible sequin pillow!
Customising a sequin pillow is a beautiful gift for anyone on any occasion. Print the photo on it and watch the magic happen when the receiver brushes on the sequin and reveals the image.
Occasion Where Custom Reversible Sequin Pillows Goes Perfect:
Birthdays and Anniversaries
Mothers Day/Fathers Day
Baby Shower or Gender Revealing Day
Good Friday and Easter Monday
Christmas Day and New Year
FAQS ON MAGIC SEQUIN PILLOW
Q:

What is a Magic Sequin Pillow?

A:

The layer of sequin with a photo printed on it, and When you brush your hands on the pillow, a new picture or style is revealed.

Q:

What is a reversible sequin pillow?

A:

When a picture is printed on colour-changing fabric and is visible on both sides of the pillow, it is known as a reversible sequin pillow.

Q:

How do I personalise a magic sequin pillow?

A:

Go to our custom sequin pillow designing tool and follow the steps to personalise a magic pillow.

Q:

How do I put a picture on a sequin pillow?

A:

It's straightforward to put your most liked picture on a sequin pillow, upload it from your mobile on our designing tool.

Q:

How do I print photos on a custom sequin pillow?

A:

Just Upload your picture on our designing tool and print your photos on magic pillows.

Q:

Do you sublimate on both sides of a sequin pillow?

A:

To make it magic custom sequin pillow, we sublimate on one side and other side selected colour will appear