Create Colour-Changing Magic Photo Mugs
Create happy mornings with a magic cuppa full of memories!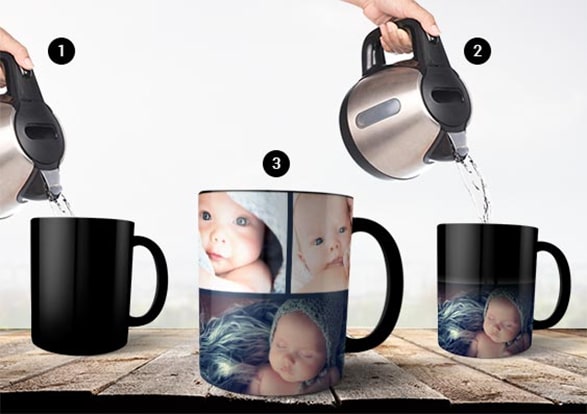 Present a photo magic mug to your dear ones as a gift!
Wouldn't it be wonderful to give a magic mug to make the mornings enthused of your friends and family? Well, now it's as easy as a few clicks to make a cool magic photo mug with us! All you have to do is then show up with magic mugs Australia as a gift to your favourite friend and surprise them!
Product Details:
Mug capacity of 325ml
Heat-activating black finishing on the mug
Photo collage or a single photo option available
Can add custom text
High-quality photo printing technology
Features Offered to Create Personalised Magic Image Mugs Online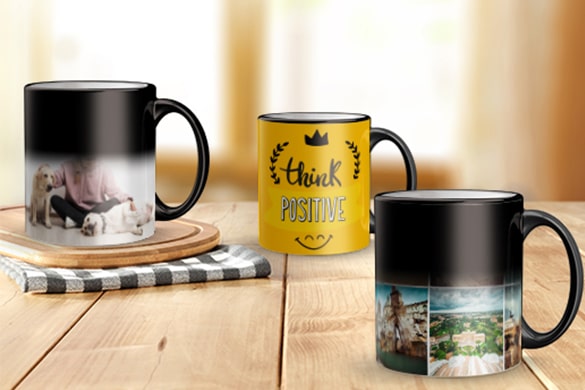 Whether it's a hot cup of tea or coffee, magic mugs come inevitably with one function, and that is a heat-and-reveal technology which makes it black coating transparent to reveal a photo printed on the cup. But not only this, we have other features that you can add on to make a perfect photo magic mug with us!
Choose a single wraparound photo for a panoramic view of your favourite memory
Image options up to 4 photos on a mug for a perfect layout
Add custom text or clip art to help tell a tale of adventure.
White or black ceramic photo mug with thermal heating properties
Pay securely online at our website
Get various delivery options for your photo magic mugs
Why Get Magic Picture Mugs Printed Online?
Every mug worth its beans or leaves deserves its specialty too.
Heat-sensing surprises

Sustainable design for everyday usage

Wrapped with care
Photo Magic Mug FAQs
Find here the most common questions generally asked
Q:

Does your personalised magic photo mugs produce artwork?

A:

We only and absolutely make custom design artwork for our clients. You can give us a family photo, an artwork or even a design of your choice, and we will print it on your photo magic cup.

Q:

Do prints on magic picture mugs stay permanent?

A:

Yes, the printed photo on the surface of the mug stays permanent even with daily use. Only make sure that the surface doesn't get scratched by pointed objects as that might chip off the photo printed.

Q:

What is the magic behind the colour change in the mug?

A:

This colour change effect is due to a thermochromatic ink used on the mug while subliming the photo on the mug. When this ink comes in contact with hot liquid such as tea, coffee or water, it shows the image on the inner surface of the photo magic mug.

Q:

Do Magic Mugs come in colours other than black?

A:

Yes, there are many stores that may provide you with a variety of colours but the black colour has been the most efficient in hiding the picture than the other colours.

Q:

What temperature is needed for the image to appear on the mug?

A:

Sure the visibility of the photo depends upon the temperature of the beverage poured in the mug. Usually, we all take a drink that is hotter than 75°C. Hence, the magic photo mug will show your printed photo when a hot liquid above 75°C is poured.
Ask about Magic Mug and get answer in email.