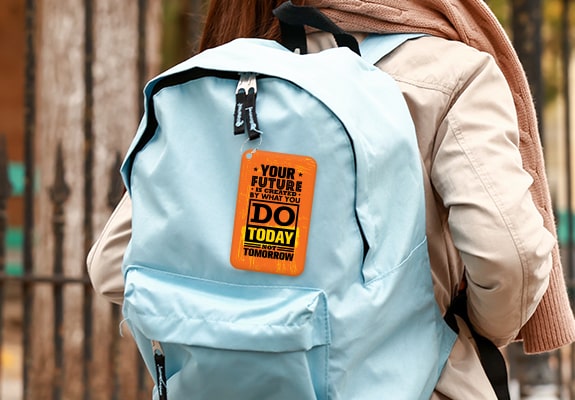 Custom Photo Luggage Tag Specifications
Travel conveniently with photo luggage tags
Material: Acrylic
Thickness: 2mm
Printing Technology: UV Printing
Size: 3" x 2", 3.5" x 2.5", 4" x 3" & 4.5" x 2.5" (HXW)
Hanging Hardware: 2MM Stainless Steel Cable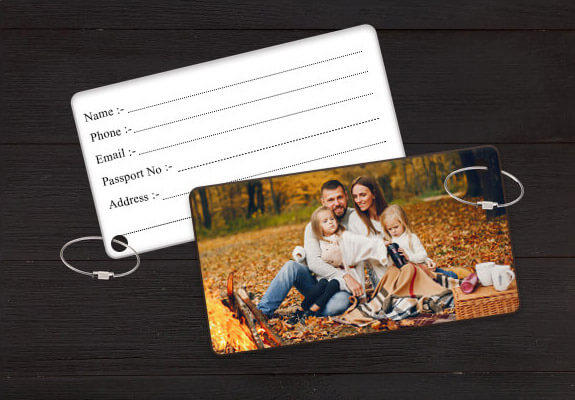 Create Personalised Luggage Tags in Australia
Durable and creative photo luggage tags for easy luggage identification
Add style to your luggage bags with a Personalised Photo Luggage Tag. These tags will help you in keeping track of your luggage. The labels come with a Stainless Steel Cable with an adjustable strap, and you can place the tag wherever you like. It stays very securely. You can design your tags with a customised name strip on the back.
Whether you are flying or travelling by bus or train, customised luggage tags are perfect for all travelling types. You can identify your luggage quite easily and quickly. You can even get your name embossed on one side of the tag, whereas getting your photo printed on the other side.
Save your bags from being stolen or misplaced using these custom photo tags. Since we use our luggage roughly, it is kept in mind that the material used is durable. Luggage tags are waterproof, compact, highly durable and of high quality. You can use these tags for trolleys, backpacks, handbags, duffle bags and suitcases.
So get your luggage secured and travel conveniently with these personalised photo custom tags.