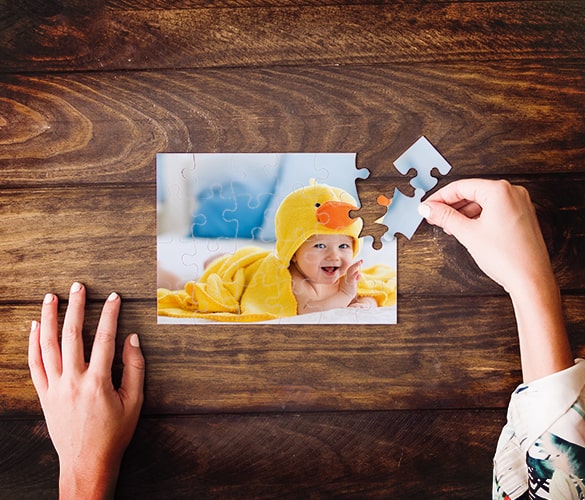 Personalized Photo Puzzles
Game times are just about to become more fun with you creating puzzles with your personal favourite photos! It's time to try a unique way of picture puzzling on personalised jigsaw puzzle Australia than the typical boring scenes on a puzzle!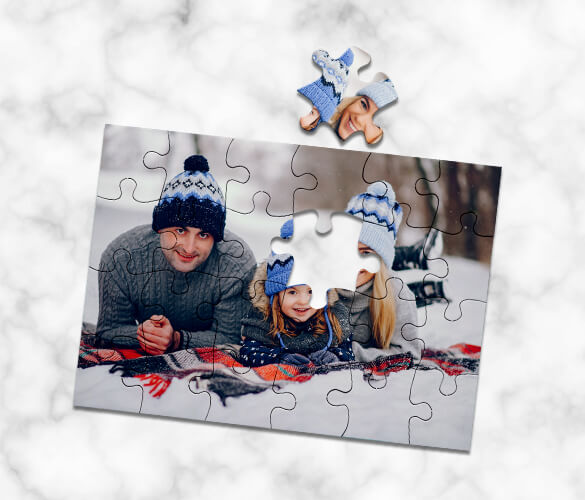 Get Guaranteed Features
We know that having a set of Personalized jigsaw puzzles requires a certain quality and highlights that no ordinary puzzle should have, which is why we assure the custom puzzle Australia features that we supply to your puzzles:
Printed on high-quality acrylic to give a colourful look
Includes a storage box
Can add multiple photos to the custom puzzles Australia layout with text
Comes with a love-at-first-sight guarantee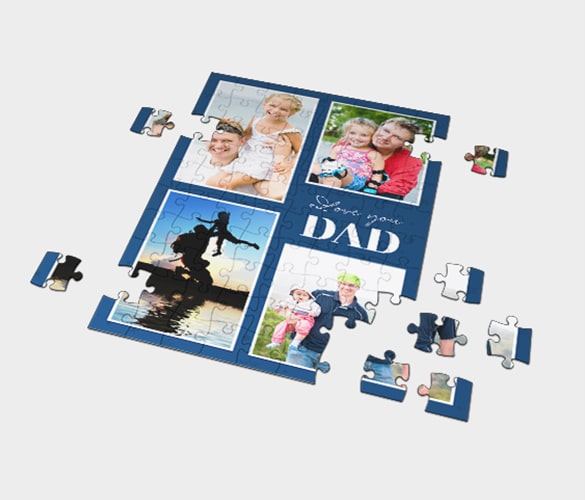 Make Puzzle Time More Fun with Collage
More puzzle photo means more fun!
If you want to make a Personalized photo puzzle but have too many fantastic photos, then our collage puzzles are just for you! With a collage puzzle:
Can have more memories in a single puzzle
More layout options to arrange the photos
Can opt for up to 1000-piece puzzle
No extra cost in adding more images to puzzle photo Australia
DESIGN CUSTOM PHOTO PUZZLE AUSTRALIA THROUGH 3 EASY STEPS!
When you make your own puzzle Australia, follow the three steps and you will have your photo puzzle ready
Choose Size

Decide the size (from 4" x 6" to 20" x 20") for your photo jigsaw Australia puzzle you want along with the number of pieces on it (from 6 to 1056).

Upload Photo

Upload the photos you want to see on the puzzle. You can upload up to four photos to your jigsaw puzzle custom design from any device needed.

Preview Design

You can preview your customised puzzle Australia done before adding it to cart and check if everything is the way you want.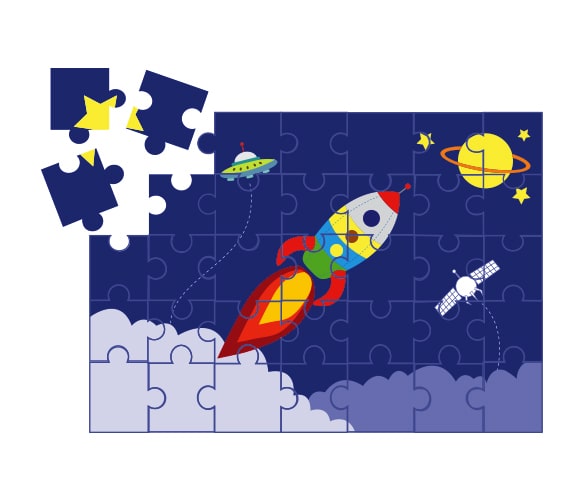 Custom Jigsaws For Kids
Planning to create your own puzzle Australia make them a part of the designing process too!
Gifting a kid some fun time might seem like a daunting task. At CanvasChamp, you can do puzzles for kids of all ages, which can be educational and engaging at the same time! You can personalise the puzzles with 1-inch or 2-inch pieces or design a personalised 1000 piece puzzle Australia to make it fun for small hands to work through it.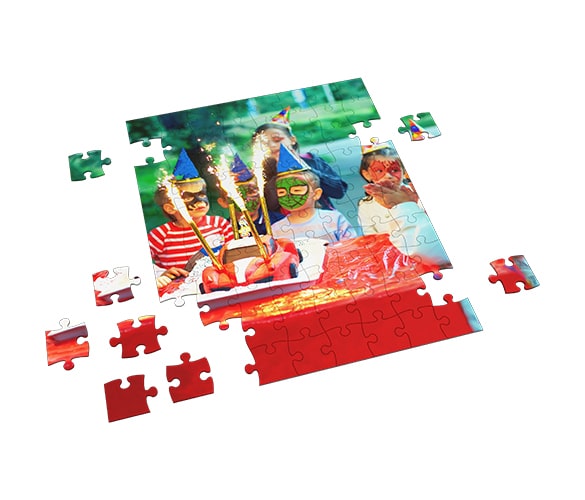 Gift a Puzzle on Any Occasion
Make Personalized jigsaw puzzles to suit any event
Personalized picture puzzles for the ultimate special occasions is now possible, and you can create them in just 5 mins! Share some fantastic photo memories on a personalised puzzle Australia on a special day with the recipient and make them feel admired. You can create puzzles for birthdays, wedding anniversaries, holidays like Thanksgiving, Halloween, Christmas or even Easter! With custom jigsaw puzzles Australia, make the indoor playtimes more fun for kids as well as adults.
FAQs about Photo Jigsaw Puzzles
What is a jigsaw puzzle?
Jigsaw puzzles are any collection of oddly shaped parts that produce an image when put together correctly. A picture is then cut into its jigsaw pieces. Users can then scramble the puzzle piece and join them together one-by-one until the puzzle matches the original image.
How to make your own jigsaw puzzle from photos?
Follow the below-given steps to create your own jigsaw puzzles from photos.
Visit CanvasChamp Australia website. Select the jigsaw puzzle size you would like.
Import your images in the CanvasChamp tool. You can use photos or create your own image.
Properly position the images. When you are satisfied, click on order now.
Congratulations! You have created your jigsaw puzzle. We will process your order as soon as we receive it.
Who makes jigsaw puzzles from photos?
CanvasChamp's Australia makes jigsaw puzzles from photos. Get yours today! You can gift these amazing Photo Puzzles to anyone and surprise them on special occasions.
How to hang a jigsaw puzzle on the wall?
Easy. Arrange your CanvasChamp puzzle in the right manner. Then frame it in a wooden or sturdy frame. Now, hang this frame on the wall and make any space beautiful.
Where can I donate jigsaw puzzles?
You can donate them to charity. Contributing to a local charity shop or a charity close to your heart is an option you can consider. Consider nursing homes or old age homes. Almost all older people's homes accept pre-loved jigsaws that residents can complete.
How to make a wooden and acrylic jigsaw puzzle?
You don't need to create wooden and acrylic jigsaw puzzles from scratch. CanvasChamp does this for you. You simply have to upload your pictures to customize your puzzles. The CanvasChamp team will handle the rest for you. Simply use our design tool, add your picture, select material, and hit buy now!
Where can I turn a picture into a puzzle?
You can turn your pictures into puzzles with CanvasChamp. We provide you with all the online tool to develop your own jigsaw puzzle at affordable prices. At the end you get high quality jigsaw puzzle with your preferred size.
Where to buy jigsaw puzzles?
You can buy a jigsaw puzzle from CanvasChamp's Australia website. We provide a variety of premium jigsaw puzzles at affordable prices. The best thing is that you can customize these puzzles as per your expectations!