One-of-a-kind personalised acrylic block prints online

Rubbed finely to give clean-cut edges

Acrylic base with a reflective glass

Satisfaction is 100% assured. Get delivery of photo blocks Australia now!
Options in Acrylic Photo Block Sizes to Let You Cover Full Photos
With a range of 4 x 4-inches to 8 x 12-inches, we have more than ten sizes for you select from in either square or rectangle form.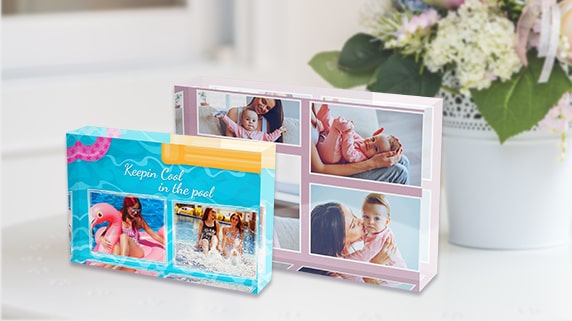 Features
Acrylic blocks Australia are printed on high-quality photographic paper. The thick 0.7-inch glass on it will make your photo appear as if floating. Not only this, but it also brings out a bright colour vibrancy and makes your image pop out of the glass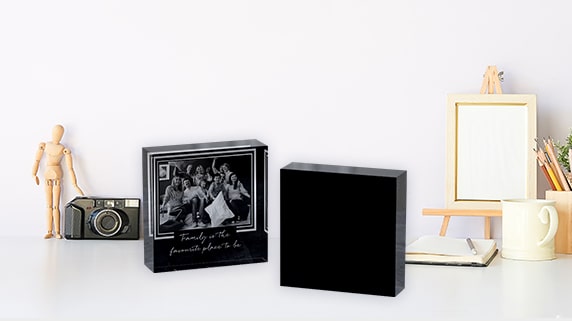 Backing
Durable inks used for the prints and the black base behind the photo prevents light from reflecting. Hence the photo will be visible wholly from any angle in the light.
Why We Are a Perfect Making Acrylic Photo Blocks in Australia
Make beautiful decorating art-pieces with photo blocks. And here's why you should choose us:
High-quality photo paper used

Tight packaging for no damage

Good colour quality

Gift that feels customised

Freestanding if put anywhere

100% quality assurance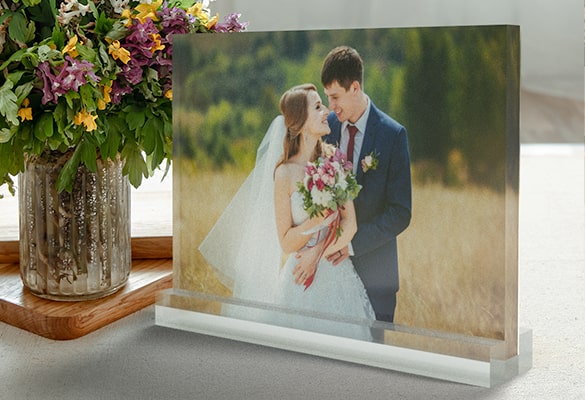 Acrylic Photo Block Stand
The block can already stand freely on its own but to make your favourite picture more eye-catching, you can opt for a black backing to make the colours of a photo look more vivid.
All the Info on Acrylic Photo Blocks
Diamond polished acrylic block to show your happy memories:
The acrylic photo blocks are polished till they reflect light like a diamond to make your image look bright from any angle of light.
Get the best photo printing for your acrylic block:
We only use best of the best printing technology to print your favourite photo on your designed acrylic photo blocks.
Get dazzled from every angle of the light:
Since it is polished like a diamond, the light reflects on the colours of the photo to show the memory as bright as it is in your mind.
Making an acrylic photo block is very easy and convenient:
Our design edit tool is very simple and straightforward which lets you preview your chosen options at every step of your customisation.
High-quality materials and tough items used to make acrylic blocks:
Only the best quality of the photographic paper to print your photo and the best kind of plexiglass is used to create acrylic blocks.
Straightforward editing tool to make the acrylic blocks:
With a lot of options to design your photo the way you want, we have a convenient designing tool that is easy to use.
Lasts longer than other cheap products:
The acrylic photo blocks in Australia are pretty economical at price but that doesn't mean we sacrifice on our quality. We 100% assure our quality.