Bring Forward Your Best Photos for 3D Effect
We want to help make your pictures look great hence we bring you 3D photo printing for it! The first step is to pick an excellent 2D photo to convert it into 3D. Here are a few tips on how to select a proper 2D photo:
Portrait Orientation

Focused Photos

Bright Photos
If you have any trouble further selecting a photo, then we are here to assist you.
Personalised 3D Pictures
Create animated images of your 2D photos with the help of our latest printing technology! Create a stunning appearance of your photos alive with the 3D photo printing process. Make some room on the wall to hang a masterpiece in 3D effect. Accompanying a black frame, it will indeed look like an art piece.
Gifts

Special Occasions

Just for Fun!
Gift a moving image or message as customised 3D photo print that will spark interest and trigger a conversation! With this has a unique gift to someone who has everything, chances of being in the good books will shoot up! Create a 3D image with us today!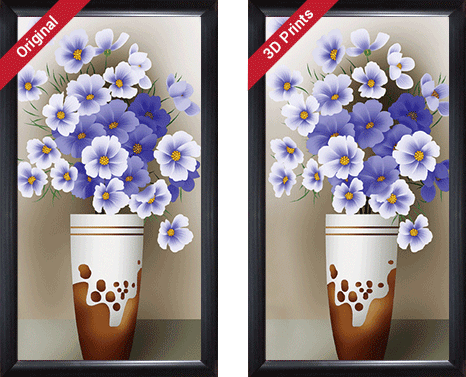 3D Picture Frames Giving Illusion of Movement
Make an optical illusion with a spectacular 3D effect of your favourite pictures! Let your photos look floating in a black modern frame as personalised 3D photos. With our latest printing technology, you can create beautiful 3D prints to match any decor space. Experience our state-of-the-art editing tool to create your very own 3D photo frames!
Features That Magnify 3D Prints
A certain peculiarities make 3D photos the best choice. Here they are
Custom 3d Photo Printing – Now Also Available For Your Home Decor
Water-proof and washable 3D prints are now available as household decorating items! Create beautifully and 3D effected photos from your favourite memories!
It Is 3d! 75-80° Visual Angle
Generally, 3D frames feature a 75-80° visual angle, which gives a feeling of movement of the photo's subjects whenever you go to and fro the photo.
Your Favourite Photos Come To Life In Stunning 3d
Add a charming touch to any room of your office or home by making your 2D photos into 3D picture frames! If you ever feel like your photos are fading into the conventional woodwork, 3D prints are here to bring a spark to your place!
3d Printing From Any Picture
We have made 3D printing very affordable hence you can create an array of 3D photo frames and decorate your hallway as you like! Any photo look fantastic as a 3D print!
Digital 3d Printing Grabs New Attention To Old Photos
Let go of your old 2D pictures and transform them into 3D prints! The effect of 3D will surely mesmerise people you flash the photos to and hypnotise them with the subjects bouncing animatedly.
Personalised 3d Photos Make Incredible Gifts
Personalised 3D frames are ideal for gifting purposes as they are customised, long-lasting and unique. Such a gift can definitely surprise and be made to feel special!
Were You Satisfied With Our 3D Prints?
Find our other photo products for more gifting ideas!