Best Gift Ideas to Celebrate World Wildlife Day In Australia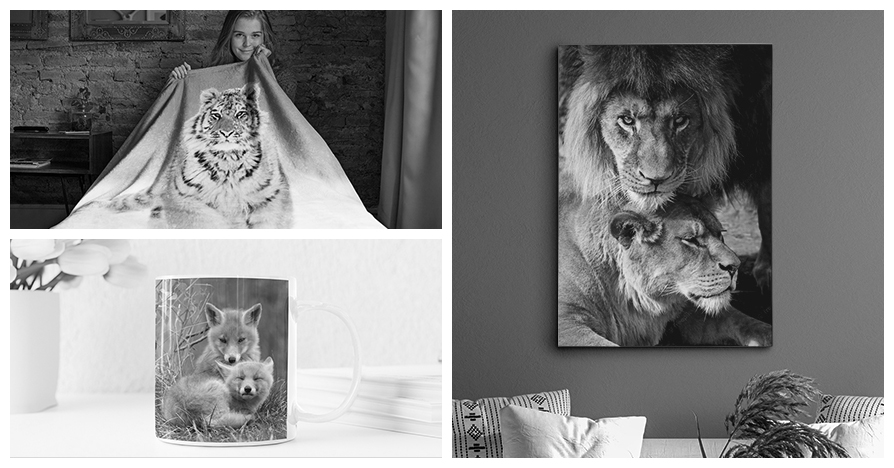 The world is full of beautiful creatures, especially the southern hemisphere, with rich and mesmerising wildlife. So on the auspicious occasion of World Wildlife Day 2022 Australia, visit CanvasChamp's official website and shop for the best custom gift items. We are celebrating World Wildlife Day Australia 2022 with our best-selling items, and you are invited to take full advantage of the unbelievable prices available.
CanvasChamp wishes you all a thrilled World Wildlife Day, and we want you to celebrate this occasion with your near and dear ones. 
Wondering How To Celebrate World Wildlife Day?
Well, if you are wondering about fun ways to celebrate world wildlife day, we are here with our genius ideas. You can use this special day as an opportunity to gift our unique, customisable gifts to your family and friends. So use your creativity to create unique custom gifts and give them to your loved ones on World Wildlife Day.
With CanvasChamp, you can create the best gifts from the comfort of your home or right from your office. It saves time and energy generally required while choosing the perfect gift, plus you can also get outstanding deals and offers with us. 
Some Of Our Most-Loved Gift Ideas For World Wildlife Day!
Choosing the perfect gift for each loved one can often be hectic and time-consuming. So we are here to help you find the best gifts that you can customise with your unique photos only on CanvasChamp.
1. 3D Photo Printing
3D photo prints are one of our best-sellers that can give life to any photo making it magical. Using our high-quality products and precise machines, you can create a unique 3D photo print to gift to your loved ones. With CanvasChamp, you can customise any photo and turn it into a beautiful 3D photo print.
2. Quotes On Canvas
CanvasChamp specialises in creating a high-quality custom canvas. Our custom canvas with motivational quotes or a sweet song can make them a great gift option. Use this World Wildlife day to gift a beautiful canvas with amazing quotes to your close friends and family.
3. Wall Stickers
Create custom wall stickers that look great on any plain wall with CanvasChamp. You can use these customised wall stickers on any wall to make it attractive and eye-catching. They can be great gifts for your colleagues or for your close friends who are looking to spice up their home decor. You can use these custom wall stickers on any wall to make it attractive and eye-catching. 
4. Portrait Canvas Print
A portrait canvas prints of their lovely pets can be the best gift for all the animal lovers out there. A custom portrait canvas print with a loving family photo can also be a great home decor to keep above their mantlepiece for your loved ones. 
5. Custom Posters
Posters can brighten any room and make it look chic and aesthetic. With CanvasChmap, you can print custom posters that fit everyone's specific style. Custom posters can be gifts for teenagers and young adults who want to make their rooms aesthetic and trendy.
6. Wall Displays
Wall displays have always been a great gift, but with CanvasChamp, you can customise the wall displays with personal photos. A perfect set of photos that look great together and brighten up any room is always a well-appreciated gift by everyone. So get your wall display from CanvasChamp, and you get a variety of size options.
7. Pop Art Canvas
The pop-art canvas is a popular gift item on the CanvasChamp website as we offer customised designs for our pop art canvas. So if you are looking to surprise someone, these pop-art canvas prints are one of the great custom great gift items for your friends and colleagues. 
8. Photo Blanket
CanvasChamp is an expert in making canvas prints and cosy and soft custom photo blankets. Our custom photo blankets are cute and warm and are great gifts for your girlfriend or wife. They come in various sizes and are made up of high-quality materials. 
9. Photo Mug
Finally, custom photo mugs from CanvasChamp can be the best gift ever for all coffee lovers. A custom photo mug with personal memories printed on it can make anyone's day brighter and make your beverages taste a lot better than they already do!
10. Luggage Tag
Are you planning a trip with your family? Well, gift them custom luggage tags from CanvasChamp to make your journey a whole lot of fun. You can use any family photo to customise the luggage tag. You can use them every time you go on a family trip together.
Visit CanvasChamp's Website Now To Enjoy Great Deals!
Now that you know all about our best-sellers head to our official website to start creating your personalised photo gift item and enjoy amazing discounts. You can find the best custom gift items on CanvasChamp at the lowest price available and the fastest delivery. So don't keep waiting anymore, and start your World Wildlife Day gift shopping right away!