Turn Your Home Beautiful With Black Friday Items From Canvaschamp
More and more retailers are jumping on board the Black Friday, which is making it difficult for shoppers to shop without it ending into a brawl. And since everyone wants something or everything from the stores to fill in the Christmas gifting-shoes, it's impossible to think about going out to shop. This is why many retailers have instead started to turn Black Friday shopping into Cyber Monday! So, even if you don't make it to the shops, you can simply browse online for Black Friday deals on the things you want!
CanvasChamp is bringing Black Friday to you at your home itself, especially for home decor items that you always wanted to adorn your living space with. So, instead of embracing the crowds at some shop or fighting over one piece with another shopper, simply pick up and design the art you want with us! We are bringing you some great super deals that can give you the right bargain without even stepping out your foot outside on Black Friday. Get to shop for the best wood prints, acrylic prints, photo mugs and lots more with coupons and deals to make you know that you won fair and square on the savings this year.

Here, check out our two most popular items that you need to stay ready to buy for your friends and family as gifts:
Canvas Prints: No can do when it comes to making your home look elegant than custom canvas prints. You can print out your favourite photos such as family photos, wedding portraits, vacation trip pictures and send it off to your family and friends to show them what a grateful year you had! Not only that you can even customise the photos on the canvas through our design too on the website which will help you see precisely how the canvas photo prints will turn out to be! We have 85% OFF on canvas prints and free shipping ready for you if you make a bill of over $49! Use code: BFSALE19 to avail this bargain. Well, not only canvas prints, but the free shipping offer is valid on all our products sitewide! Best deal you can get to decorating your space ever!
Metal Prints: Got many colourful pictures to show off? Try out metal photo prints from us! You can display some really high-contrasting colours, and metal prints won't fail to illuminate it! Since the photos you give of high-resolution are printed over an aluminium sheet, they provide an excellent indication of colour and contrast rendition of the picture on the metal print. The metal makes it highly resistant to moisture, and the image turns out to be fade-resistant even if you hang it in a well-lit room. We already have 60% OFF, but we are giving away 10% EXTRA to make it the sweetest deal for you! Use code: MET10 to get the extra discount on the already discounted metal prints. Also, if your cart order becomes more than $49, then your shipping is free!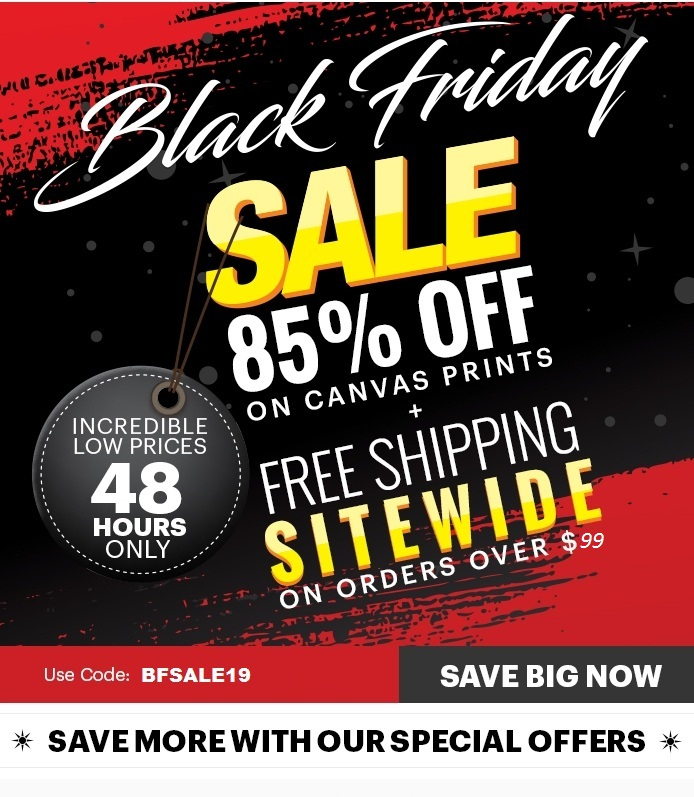 Despite so many reasonable offers on both of our popular products, you can check out our coupons and deals section to avail more significant discounts on your Black Friday cart at CanvasChamp. The sale will start sharp at 28th November 11:59 PM AU Time Zone and expire on 1st-Dec-2019 11:59 PM AU Time Zone. You will have two full days to decide, get opinions, design, and pay for your order! So, prep up yourself with the biggest Black Friday sale on personalised decor only at CanvasChamp.