Pet Day with Canvaschamp!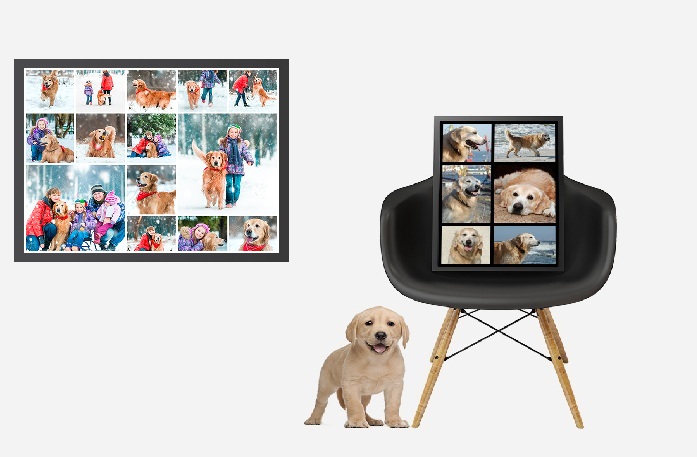 Having a furred, feathered or scaled member in your family isn't any little event. Neither is losing one too. However, let's not kick off with unhappy stuff and instead specialise in the fun part! These pets come along by your side throughout many of your most vital moments over the years. They create your home the way it is now- happy and beautiful. Therefore to treasure them and their dedication towards us, we should reciprocate it with some fantastic ideas that to memorialise their passion and spirit!
With 11th April coming soon, it's time to celebrate National Pet's Day with our very own dogs or different, extraordinary pets to show them, how much we manage to love them. From taking an extended stroll in the park to treating them with yummy treats, there are varied ways to celebrate National Pet Day.
So let's do something special this Pet's day! We've listed seven ideas below showcasing individualised ways to create originality with your pet photos to honour your pet animal in your way. This Pet's Day, flip their paw prints into womb-to-tomb images to show on your walls or style an art gallery around your pet's house. Whether or not you're comforting an acquaintance or remembering that sweet animal of your own, these picture products offer life-affirming ways that to celebrate their spirit. Take a look at below ideas:
1. Glorifying Pet Portrait
Well, you don't have to be an expert person to own a portrait of your pretty pet. Merely take a cute picture of your pet from your phone creating an "awww" moment for you and obtain it printed on canvas prints to show in your hallway! That the next time your pet makes a cute face or a lovable yawning expression, you'd realise it's perfect to go up the wall for all the guests to like your pet even extra.
2. Cushion your pet or Cushion for Pet?
Yup, you caught it right...Get stuffed photo pillows with their photo on it and watch them how they ne'er leave the pad alone! Get a happy and smiling image of your pet and print it on a photo cushion. You can opt for a style for the pillow background to match the bed of the pet.
Or you would like to make a silhouette of your pet's picture and print it on the cushion to make it further inventive for bedrooms and porches! Showcase them in your lounge as a sweet reminder of their place in your home.
3. Your Pet Your Art Movement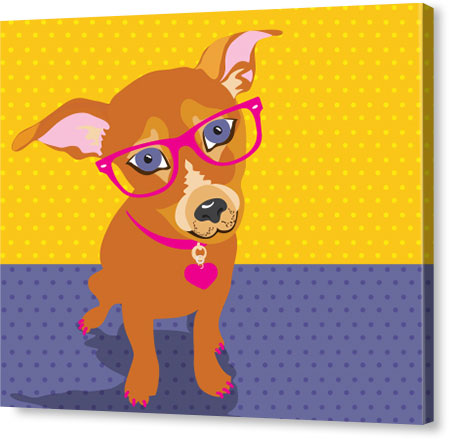 You can have your pet as a pop art by remodelling your favourite pet's image into an Andy Warhol-styled work of art! Get the artwork as a framed print and place it right across your pet's space in your home! Photo prints of your furred friend at the side of the bed or on a coffee table would look excellent to allow them to understand how necessary they're to us. Today frames can be chosen to match with the picture's background colour and also the home decoration. Therefore understand to select an identical frame which will match with the home decor since the pop art would be too vibrant to drag out the frame if chosen bright besides.
4. Magnetic little Balls of Energy they're...
Magnetise the recollections you had together with your pets and create photo magnets of them! Take some very shining moments of affection that you just shared with the pet and get it printed on a picture magnet to glorify your room or garage space. Photo magnets at CanvasChamp, by the way, will attach on any metal surface- could it be a refrigerator door, window bars, garage, cars, window shields or perhaps even on steel parts of tables and chairs. Also, you can have a unique form for a specially selected space you wish to place it at. Shapes like heart, circle, rectangle and even square are accessible at CanvasChamp in any size you want. Therefore stick that pet wherever you'll miss them once you see their picture magnet!
5. Pet Bombs with Photo Collage
Pets invariably create weird faces at the proper times! Therefore why not make a photo collage of it? Take all the odd and funny expressions of your dog, cat or any pet and make mini pictures of it to collage them on canvas! Create a photograph collections of your pet to rework a whole aspect of an area into recollections of fun times with them! Cats and dogs typically have additional moments of funny faces. Attempt capturing their weird faces while eating, playing with their toys, bathing or just once snoring in there odd sleeping positions. Keep in mind the manner they precisely are...happy tiny balls of energy- who will make you feel affectionate the one moment and the other moment end up ruining the whole house.
6. Pet Photo Books...Because they're Family Too
Pets are an indispensable part of the family. Therefore they too should have that family picture album rather like all the children, and you do. Collect footage of pets and their relations with each family member to form a photo book of them and treasure them forever with you. Sunny times at beaches, rainy moments, once when they were terrified of that thunder sound, their birthday celebrations- these recollections, should be there on a photo book right with you.
7. Paw Prints...Framed
Exposing the memory of your pet provides out a daily reminder of their impact on your home. Add an individualised, clever bit to the frame around a pet photo by adding an easy watercolour style to the matte frame border. If the image is black and white, follow grey paint tones to mix with the image. Or get the paw prints of your pet clicked and into framed prints to prompt their essential place in your life.
You know best what your pet loves. Show them how much you care and love them. Our pets are a significant a part of our lives and each tiny moment we tend to share with them remains in our memories forever. So make them feel loved every single day. By creating an item that speaks to their active and confirming energy, you'll carry their love into the remainder of your years with these daily reminders.
Explore all the ways that help you make original pet photos throughout your home to mirror the place they hold in your heart. This National Pet Day, let's be ready to like them the manner they keep an area in our hearts and dedicate our time and energy to modify our home even further. Visit CanvasChamp for other individualised gifting ideas for your pet's day.