How to Celebrate International Women's Day in the Office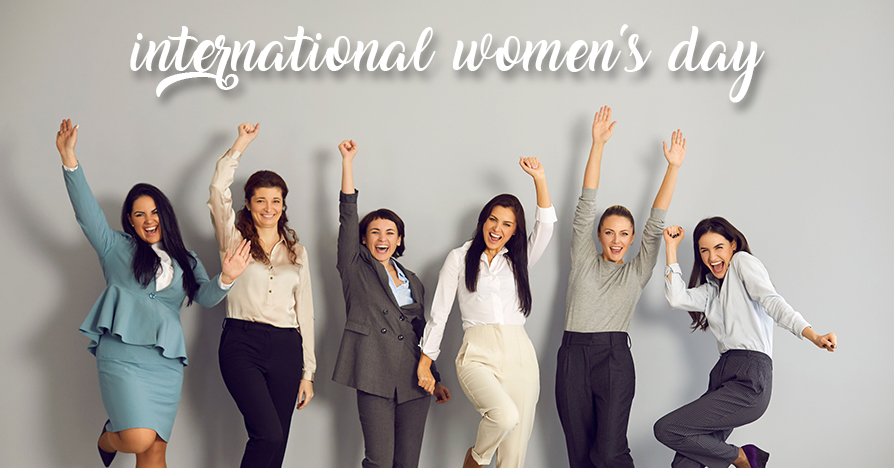 8th March 2022 is designated as international women's day. It is a day to commemorate women's strength, patience, power, and invincible spirit. There are celebrations across the globe to mark this day as an honor and gratitude for the women around us. 
Taking it to the corporate, many businesses struggle that how to celebrate international women's day in the office? We all spend more than 8-9 hours with our colleagues, and it is crucial to display our love and respect to women colleagues. So, let us today help different companies celebrate international women's day with elegance and style at workplaces. 
Quick International Women's Day History
:
The International women's day history dates to the 1990s. In 1909, the first women's day was observed in the United States. Then, it was followed by the international conference of working women in Copenhagen in 1910. Finally, in 1911, International women's day was honored in Denmark, Austria, Switzerland, and Germany on 19th March.  
Russia observed its first international women's day between 1913 to 1914. Hence, 8th March came out as the globally accepted day for international women's day. The United Nations celebrated its first international women's day on 8th March 1975. Let us now move to some of the quick decoration ideas. 
International Women's Day Office Decoration Ideas
:
Decorations are a crucial part of office celebrations. Hence, when it comes to the International women's day office decoration, ideas need to be creative entertaining while keeping women empowerment at the core. Some of the top decoration ideas for international women's day include: 
1. Color-themed Decorations:
Go for purple, green, or white-themed decoration that matches the colors of the women at your workplace. Pink balloons and decorative lighting can create unique décor for international women's day. 
2. Banners:
Go for a banner competition themed at women empowerment that you can then display on the premises. You can further declare the competition winners based on the voting by all employees. 
3. Workplace Decoration:
Workplace decorations can be ideal for decorating the office on international women's day. You can surprise the women workers with the workplace decorations. 
4. Custom Stickers:
While celebrating international women's day at work, custom wall stickers can be the option for decorating workplaces. Having women empowerment-themed cutouts can help your women colleagues to take unique pictures. 
5. Decorating Notice Boards:
You can decorate the company's bulletin boards or notice boards with the women's day themes. In addition, it can seamlessly decorate the office with group pictures or individual pictures of female colleagues. 
Ideas to Celebrate International Women's Day at Work
Some of the extraordinary international women's day ideas at work include: 
Set a Dress Code:

For the upcoming international women's day, setting up a dress code including purple, white, or green can be the best way to initiate the celebrations. This can create the special day's feel that everyone, including men, carries its essence.

 

Plan a Memorable Outdoor Trip:

While looking to celebrate

international women's day at work,

you can plan some special outdoor trips. It can be to some special places famous for women's empowerment. These unique outdoor trips can work in the best ways to engage employees and celebrate international women's day.

 

Writing Emails:

It is important to wish your female colleagues' special occasions. What else to go for than writing special wish mails on this international women's day? The HR department can write dedicated mails for employees wishing them women empowerment.

 

Plan a Lunch:

When looking for the ideal celebrations on international women's day, companies can plan a lunch for the women colleagues. It gives women a chance to enjoy the special day with an official lunch in any leading restaurant or food chain.

 

Early Walkouts:

Another wonderful way to celebrate international women's day is to organize early walkouts. These can be the ideal ways to give an advantage to the women to enjoy this day with their friends and family. In addition, these early walkouts can revitalize your women's workforce.

 
Including Men in Conversation:

The

activities for international women's day

must include the men that should be the real feminists. Men in companies must know about the challenges faced by women in daily life and make them aware of their struggles.

 

Story Sharing Session:

Another vital activity for international women's day is to share the stories revolving around women's empowerment. Female colleagues can be encouraged to share their personal, encouraging experiences. This can encourage women that are looking to enter the predominant male sectors.

 

Fundraising:

Companies can commit to charity or fundraising concentrated on women-oriented businesses. Women employees can be encouraged to bring the items that are no longer in use, like old clothes or other things that are not used at their place, as a donation to the charity. This can bring the real essence of international women's day to corporations.

 

Training Your Staff

: While it may not seem like a direct activity, it could be one of the best

ideas for celebrating international women's day

.

It is essential to educate women about their rights while working in a corporation—specific training like POSCH, pregnancy discrimination, etc. 

 

Fun-filled Activities:

While international women's day is all about the spirit of women's hood, it is essential to make it full of fun and entertainment. Dressing like women's iconic styles, mimicking activities, etc., can make the whole celebration full of fun and entertainment. Further, women colleagues can team up against men colleagues for fun-filled activities and win competitions like rope pulling, etc.

 
Wrapping Up
Women are the source of inspiration for many, and when it comes to international women's day, it should be unique and memorable. If you feel like companies are celebrating international women's day, it is easy to go through the different ideas mentioned above to make this celebration worthy at the office.