7 Unique Personalised Gift Ideas for Mother's Day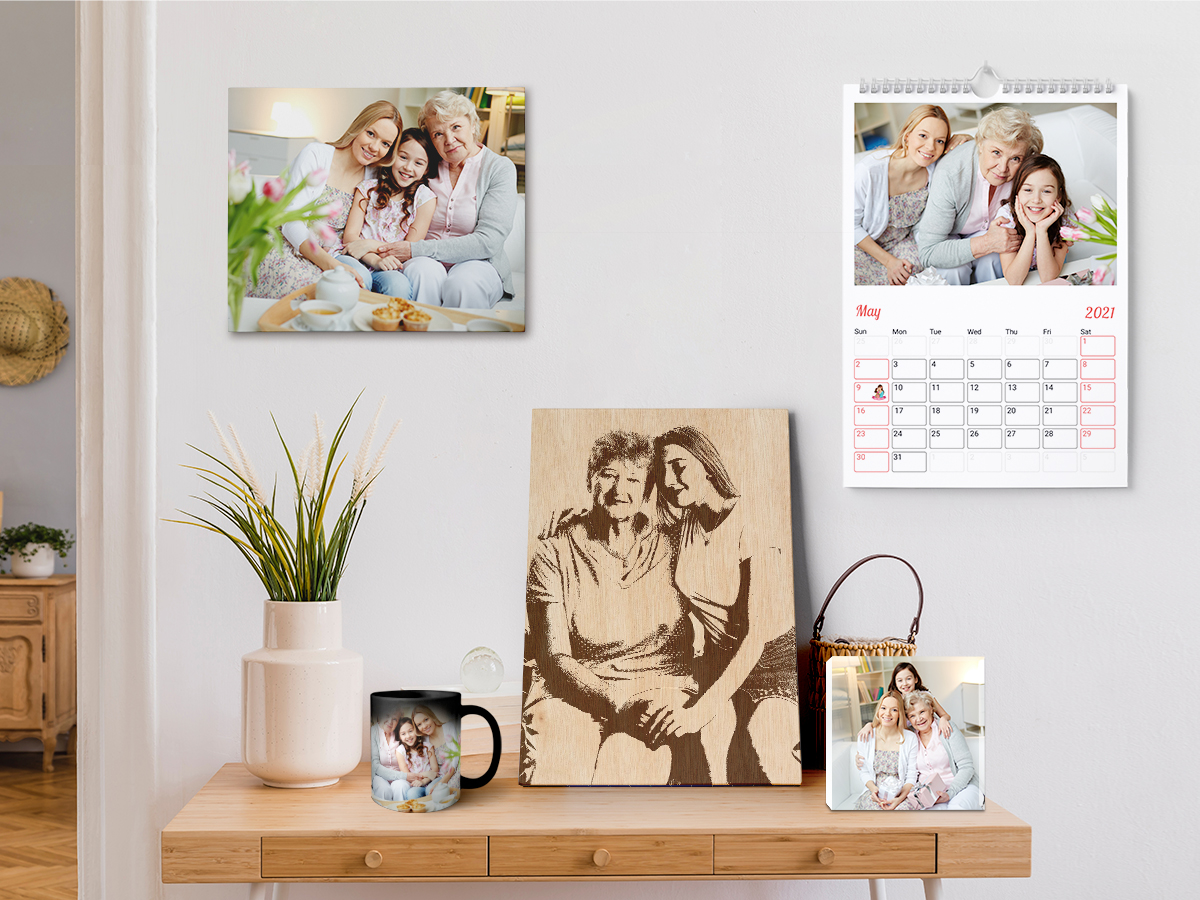 A personalised gift can have favourite pictures, monograms, or names engraved on it. From canvas prints to wood prints, everything can be made memorable and will leave a significant impact. This post has given a list of seven personalised photo gifts that you can give your mother on this mother's day. Let's take a look:
1. Canvas Prints:
Canvas Prints will make a perfect gift for your mother and bring a smile to her face. It will make mother's day memorable. Rekindle your childhood memories with your mother with personalised canvas prints. Get your canvas prints customised with your favourite picture and bright colours. 
2. Photo Books:
Photo books are not just books with pictures, but they also reflect a lot of affection and love for your loved ones. This is another beautiful and heartwarming gift that you can present to your mother. They come in various theme options, colours, styles, sizes and textures. 
Relive the beautiful moments spent with your mother and give her customised photo books with beautiful pictures. It will be treasured and cherished by your love life long. Convert your photos into a piece of art worth mesmerising. 
3. Photo Mugs:
Are you looking for a gift for your mother that can be used by her every day? Photo mugs are one of those gifts. She can use them to have her early morning cup of tea. You can easily design your personalised photo mugs online. We have hundreds of prints, designs that can be selected. 
If you don't like the designs available online, you can upload the picture of your choice. To give your mother immense happiness, this can also be gifted. For a change, you can print your mother's childhood picture. The pictures printed on the mug are of high resolution. 
4. Custom Photo Bookmarks:
Custom photo bookmarks can be used as bookmarks and as a wall ornament. Bookmarks come in different shades, sizes and can be designed with various embellishments. You can also add tassels and other hangings to bookmarks. 
Give your mother a set of multiple photo bookmarks with different pictures. You can even write additional messages on the bookmarks. The bookmarks are made of high-quality material and can be used for a very long time if taken care of. Bookmarks can be an excellent way to mark your reading progress, keeps you away from the tension to remember what you read last and also a good reading assistant. Our mothers like to read magazines; bookmarks can bring happiness and fun while reading. 
5. Wall Display:
Your mother always has some space in the house, which she loves to fill. It can wall of the hall room, dining room, bedroom and even kitchen. A Wall display can convert your wall into a beautiful art wall. Printed canvases, with artworks and beautiful pictures, also make a good wall display and an alluring gift for mother's day. 
You can give not one but numerous canvases to fill your wall with memorable pictures. Wall displays guarantee a modern, chic look. It will be a delight for not only your mother but her guests too. 
6. Photo Calendars:
An ideal gifting product for mother's day could be a photo calendar. A personalised photo calendar would remind your mother about this gift for the entire year. 
Every month when she turns in the paper, she will think of mother's day.  You can select 12 pictures for all 12 months. You can customise both wall calendars and desk calendars. 
7. Wood Prints:
When we get frames printed, we are always scared of the fact that they might break someday. If you choose wood prints over other frames, you do not have the tension of them breaking. You can get the pictures printed on wood. 
The wood prints come in high quality and UV print that makes it very durable. Capture the best photos with your mother and get them printed on wood. 
With so many options available, you can give any of these to your mother on mother's day. You can check out CanvasChamp for getting personalised gifts.