St. Patrick's Day Gift Ideas And Fun Activities to Plan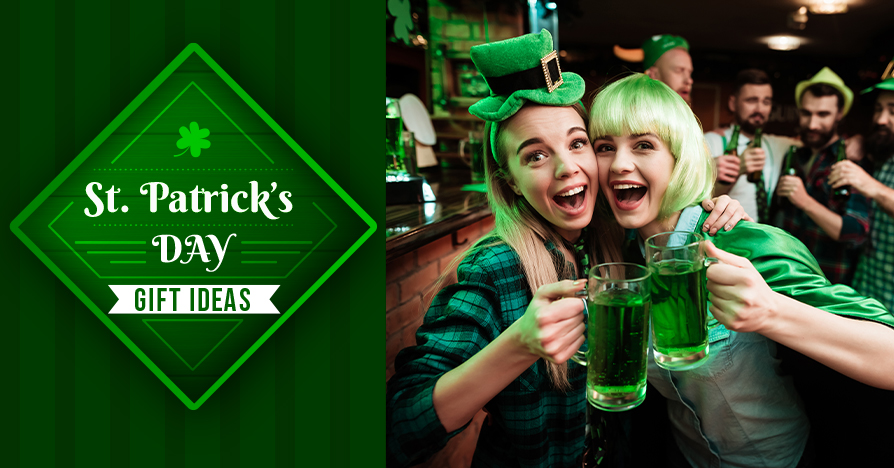 Well, the great St. Patrick's Day is approaching, and it is time to look for the best gift ideas to surprise someone on this special day.  
Do not worry, you are not too late.  
This blog will list all the gift ideas and fun activities you can plan and celebrate this day with your friends and family and enjoy it to the fullest.  
So, let us get started.  
What is St. Patrick's Day?
St. Patrick's Day remarks on the death anniversary of the patron saint of Ireland. The day also celebrates the arrival of Christianity in Ireland and is celebrated on the 17th of March every year. You will find people wearing green colored clothes all-around your neighborhood.  
Now, if you know the significance of the day, you are ready to celebrate it with your Irish friends and family. 
5 Fun Thing to Do on St. Patrick's Day
Here is a quick guide on how you can celebrate, what things you can do, and what to give to others. 
1. Have A Costume Contest
As it is the day of green colour, why not have a consulate contest and see who wins the green contest? Having such a contest would encourage people to wear green and know the significance of green colour on this day.  
2. Eat And Drink Only Green Items
If you must wear green clothes, why not eat everything green? Right? Green breakfast may include a green drink with some healthy options. Most of the green food items are healthy, therefore you will also get the best opportunity to eat healthy food.  
3. Make Some Patrick's Day Crafts
Making some cool crafts with kids is always fun. There are many art and craft kid-friendly ideas that you can make. It will also engage you and your family in something worthy. You will get to spend some quality time together. 
4. Watch An Irish Movie
Get your family and friends together and have a cosy and lovely set-up to enjoy a fantastic movie with them. With the film, plan some green popcorn. 
5. Watch Or Visit St. Patrick's Day Parade
Watching a parade is not an option to cut down from the list. It is always fun and exciting to watch or visit parades. It gives insights about the special day. If you cannot make out to visit, you can always watch it with your family.  
Fun And Exciting Gift Ideas for St. Patrick's Day
Gifts are necessary on this occasion. With gifts, it does not feel like a festival. Therefore, you must plan something for your friends and family. For your ease, here is a curated list of gift ideas that you can consider giving on St. Patrick's Day. 
1. Photo Mugs
Gift an amazing photo mug with some memorable pictures on it. A coffee mug is the best gift you can give to someone. Therefore, think of some creative ideas to customize a coffee mug for your near and dear ones. Have something related to St. Patrick's Day only so that they would remember your gift.  
2. Tote Bags
Tote bags are of most use when we must carry trivial things outside. Therefore, you can think of giving it to someone who often goes outside for work. A customized tote bag is the best gift you can give to someone. Think of some creative and unique ideas and get them customized on the bag.  
3. Magnet
Some people have a craze for fridge magnets, and they like to collect various kinds of those. Therefore, if you have someone in your circle, do not forget to give a unique and customized fridge magnet. It would add a valuable element to their collection. As it is St. Patrick's Day, customize it according to something in green.  
4. Photo Frames
Photo frames are a fantastic way to preserve memorable photos. You can gift a customized photo frame to someone with a lovely photo together. You can also use photos of St. Patrick's Day only to make it more significant. Customize the frame with some latest artworks or cute cartoon pictures.  
5. Posters
Prints
Posters can be customized as per any idea or memory, but they must be creative and unique. To commemorate this day, customize some posters with beautiful and powerful quotes and pictures of the day. Giving these posters would add a lovely item to the walls.  
6. Photo Coasters
Coasters are the best way to save your furniture from getting marks. So, you can think of giving Coasters with a customized theme on them. Personalized photo coasters can help you prevent furniture from getting marks in the most mesmerizing way. Customize it with a St. Patrick's Day theme and gift to your near and dear ones.  
7. Ornaments
Ornaments are the best way to impress people, especially girls and women. Gift them beautiful, customized ornaments and make them feel special. Ornaments may include bracelets, rings, neck lockets, or any other things. You can gift them according to their choice and preference.  
8. Wall Art
Wall art can include hanging posters, stickers, or frames. Once you find a wide range of wall art, you will get the best one for your friend or family.  
To Conclude
:
Festivals like these encourage people to visit their families and friends, so do not miss this chance. Have fun with them and click wonderful photos together. Make delicious food and give exciting gifts. Overall, enjoy and live the moment!!