8 Custom Gift Ideas To Gift Your Siblings on Sibling Day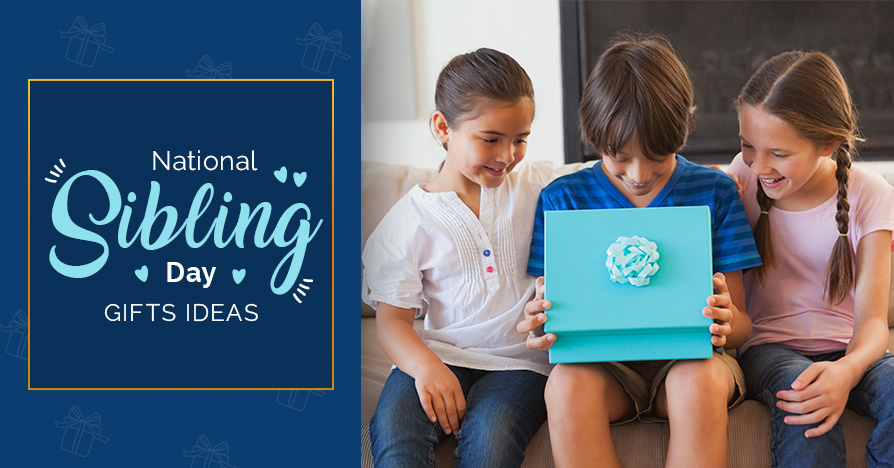 There is no greater bond than the bond of siblings. And what is a better way to celebrate this bond than National Siblings Day?  
National Siblings Day 2022 falls on the 10th of April. This is your chance to let your siblings know how much you appreciate their presence in your life!  
So, let us make National Siblings Day 2022, the most memorable day with these 8 custom sibling day gifts ideas.  
Are you ready? Let us get started. 
Custom Gift To Surprise Your Siblings 
Gift Idea #1: Instagram Pictures On Canvas
 
Over one billion people use Instagram every day. And we bet your siblings do too! This sibling's day, try something unique and make sure to shower your love on another level.  
Capture and portray all those special childhood and adulthood memories on these customized Instagram canvases. Showcase the Instagram pictures on your wall today and show off your creativity and love for your sibling not only in the reel world but in the real world too!  
Gift Idea #2: Facebook Pictures On Canvas
 
How can we miss Facebook? Facebook was our first social media, and we bet it was your sibling's first social media too! So, it is now time to collect years of memories from their Facebook walls and frame them on canvas. 
Siblings are the family you have by chance and friends by choice. These custom Facebook canvas prints will serve as one of the most beautiful siblings day gifts and will remind you about your strong sibling bonds. Your playful childhood memories will be on display on your wall, so you can revisit them whenever you want. Or you can hang these Facebook canvasses on the walls of your home so that the imprints of your bond last longer.  
Gift Idea #3: Photo Mugs
Photo Mugs make classic gifts of all time! Whether it is Father's Day, Mother's Day or siblings' day, photo mugs are evergreen gifts that are not only beautiful but also useful!  
Celebrate this sibling day in classic style by gifting them a beautiful mug! This custom printed photo mug will remind them of your bond with everything they use. Just add your photos, or unique funny quotes to provoke them, as every sibling does! And Voilà! You have the simple, classy gift ready.  
Gift idea #4: Photo Ornaments
 
The most meaningful gift one can give is a photograph. After all, a picture speaks a thousand words. Available in different shapes like hearts, hexagon, these cute soft charming photo ornaments are the best gifts to delight your siblings.  
Hang it on a Christmas tree or a wooden frame and sprinkle your memories all over the home! So, what are you waiting for? Get your custom printed photo ornaments and make this sibling day the most memorable ever.  
Gift Idea #5: Fridge Magnet
Surprise your siblings with a nostalgic memory printed on a custom fridge magnet. These creative custom magnets will remind them of your strong sibling bond whenever they use the fridge.  
Radiate your loving vibe throughout your home. You can gift a customized fridge magnet either with emojis prints or as a reminder for them like, "I love you, but put your hands off my chocolate." 
Gift Idea # 6: Table Top
 
Frames can break, glass shatters, and the photos remain buried in the drawer waiting to get out. And if you have your most cherished pictures with your sibling lying somewhere in the attic or buried in drawers, it is time to get them out and display them beautifully with custom tabletops.  
These custom printed tabletops will radiate the siblings' love all over the room. Available in four varied materials such as canvas, metal, acrylic, and engraved wood, the possibilities of creating a custom gift for your siblings are endless!  
Gift Idea #7: Collage On Canvas
 
Relive all your favourite memories by printing all your and your siblings' images on a photo collage canvas poster. Keeping the photos of that playful, cheery moment and moulding them into one beautiful image is the beauty of a collage canvas. You can decorate the collage with other items as well to give it an individualized touch and vibe.  
Gift Idea #8: Photo Blanket
 
Why limit your creativity to mugs, canvas, and ties? There is no better way to give a gift to your siblings that is utterly unique than a photo blanket. The soft, cosy blankets that your siblings love to snuggle in can now be customized with your cherished photos. Your presence in their life is uniquely marked with this custom photo blanket, like a cosy, comfortable reminder.  
You can customize your blanket with images, text, and designs. Give this unusual gift to your unusual sibling today. They are waiting.  
Wrapping Up: 
Celebrate this International sibling day in Australia with a bang! Your search for custom siblings' day gifts ends here! Get those custom printed cups, tabletops, magnets for your siblings, and keep your bond alive forever!  
Happy sibling day! Happy celebrations!