7 Easy Steps to Print Lyrics on Canvas
People listen to music through radio, on phones and laptops and even while commuting to work to brush off the numbness of the routine. Since music is such an essential part of day-to-day life, many choose to highlight their favourite music or songs by creating a canvas wall art with it. If you want to present a gift to a music-lover or are a musician yourself, then you can decorate your place by merely brightening it up with your favourite lyrics on canvas. We are here to present you with a step-by-step guide explaining how you can create beautiful wall art with your favourite song lyrics. CanvasChamp has the best price on personalising and gifting songs or melodies on canvas.
Here's How to Customize Lyrics on Canvas:
Step 1: Choose a Template
We provide up to 12 lyrics or quotes template from which some of the options are the first dance from your wedding song, sheet music canvas art; wedding vows on canvas, lyrics on canvas prints and many more. Choose the style theme for your canvas and head to the next step.
Step 2: Upload a Picture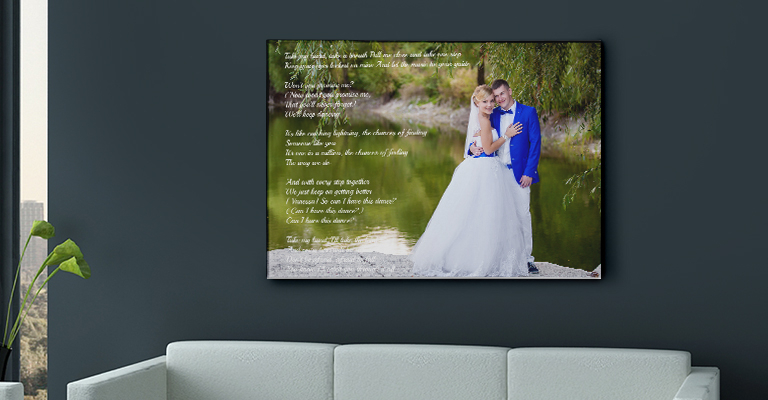 You can import a photo that you want as a background to your lyrics from any device and any format. You can upload it from your computer or even from a log-in option that we offer for Facebook or Instagram where you can directly transfer photos from your profile to the editing tool.
Step 3: Select a Custom Size
Choosing from a customising size can get overwhelming at times. Hence, we have categorised, and grouped certain sizes into the square, panoramic, large, small and recommended popular choices. That way, it would get easy for you to imagine what shape would look the best for your space.
Step 4: Wraps & Borders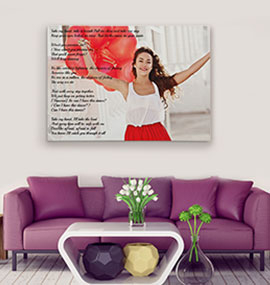 You can choose from the style of canvas you want from thin gallery, warp, thick gallery wrap, rolled canvas, hanging canvas, image wrap and mirror wrap. In border options, we have up to 11 frames for you to highlight the lyrics on canvas prints.
Step 5: Hardware & Finish
You can get to decide a better option when you know how and where correctly you want to place the canvas prints. There are options like hooks for hanging, sawtooth hanger, easel back or stand and dust cover back. Sometimes giving a right filter to the photo can brighten up your walls, so we offer up to 18 options in finishing for your canvas.
Step 6: Other Personalising Options
You can laminate your lyrical canvas or even make minor or major retouches on the photo you place in the background with this option. It will not only make things easy for you to go through these steps but also give a fascinating result on your canvas.
Is Lyrical Canvas Prints a Good Gift?
There's always one song that you have associated with a person that is close to you. It could be your friend, mother, spouse, colleague or even your neighbour. Now, you can immortalise the song you like with the other person and gift it to them to make a special bond! Not only would lyrics on canvas look unique, but it would look even more intimate and personal as you would get a chance to personalize it and then gift it.